AMD Introduces New Radeon Graphics Card
August 14, 2018
The new graphics card from AMD reportedly offers workstation graphics performance for under $1,000.
Prepare for Augmented, Virtualized Product Development
August 13, 2018
Laying the groundwork for professional augmented reality and virtual reality apps begins with generating realistic, interactive content.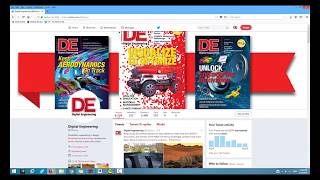 Watch This: Engineering News from 3Diligent, Autodesk, NASA and Fictiv
August 10, 2018
3Diligent takes a stand against 3D printed guns, Autodesk and NASA envision 3D-printed habitats for Mars, and a hardware business report from Fictiv.
Worldviz Launches Vizard 6
August 9, 2018
Worldviz launches Vizard 6 before Siggraph 2018, adds supports for glTF and new hardware.
Renderings that Fool the Eyes and Minds
August 1, 2018
Digital artists discuss their tools and tricks.
Experiencing Is Believing in Immersive Design
August 1, 2018
The power of an immersive, shared experience to promote collaboration and inform design should not be underestimated.
From Solid Geometry to Responsive AR-VR
August 1, 2018
The handshake between CAD and visualization engines proves critical to AR-VR development.
Live Panel Discussion: Simulating Reality with a Touch of AR-VR
July 13, 2018
For years designers and engineers have worked in 3D modeling and simulation applications with immersive, photorealistic visuals that can mimic reality. The affordable AR-VR gears and hardware that have recently emerged promise to bring the missing piece—a sense of...
EON Reality's AVR Platform Targets Enterprise and Academia
June 19, 2018
The AVR Platform is a scalable, cloud based, Software-as-a-Service augmented reality (AR) and virtual reality (VR) Platform.
Lenovo Unveils Its First 15-in. VR-Ready Mobile Workstation
June 13, 2018
The new ThinkPad P52 workstation features the NVIDIA Quadro P3200 GPU (graphics processing unit) and a new Intel Xeon hexa-core CPU in its compact chassis.
Meshroom VR Studio Software Bundled with @Xi Workstations
June 8, 2018
@Xi Computer and MESHROOM VR have partnered to provide cost-effective complete Professional VR solutions.
Fight Complexity with Technology
May 14, 2018
Don't be distracted by "more, better, faster" promises that increase complexity.
Virtalis Releases Latest Version of Visionary Render 2 Engineering VR Software
April 23, 2018
Visionary Render from Virtalis supports dynamic, interactive virtual environments that can be shared across a variety of devices.
Technology Focus: Immersive Design
April 17, 2018
A fully immersive virtual design engineering software user interface may await in the future, but many immersive design technologies are already reality. We've collected some of DE's coverage of AR, VR, advanced rendering and simulation visualization in this...
Technology Focus: Immersive Design
April 17, 2018
This digital issue features rounds up DE's recent coverage of immersive design engineering technologies, such as virtual and augmented reality, digital twins, remote rendering, simulation visualization and more.
Latest News
Chaos Group previews Project Lavina, SimScale releases radiation simulator, Onshape recognized by World Economic Forum
In this episode of DE News Roundup, Chaos Group previews Project Lavina for real time ray tracing, SimScale releases radiation...
AMD Radeon Pro Software for Enterprise 19.Q3 Is Optimized for Professional Applications
The latest driver also continues to prove the value of updating professional drivers, with Day Zero certifications to help ensure...
Moldex3D Partners with Wittmann Battenfeld on LSR Injection Molding and Smart Manufacturing
The memorandum of understanding is aimed at bringing together both parties' extensive knowledge and technical expertise to advance the role...
Siemens Debuts More Tire Modeling Capabilities in Real-Time Environments
The Simcenter Tyre team releases MF-Tyre/MF-Swift 2019.1 with more possibilities to test with MSC ADAMS.
All posts