Top Story
GTC: NVIDIA Omniverse Enables Real-Time, Virtual Collaboration
October 7, 2020
New Omniverse platform enters open beta; NVIDIA announces DPU products.
GTC: NVIDIA Omniverse Enables Real-Time, Virtual Collaboration
October 7, 2020
New Omniverse platform enters open beta; NVIDIA announces DPU products.
Autonomous Vehicles Take VR Test Drive
September 15, 2020
Automakers explore augmented and virtual reality in vehicle development and to enhance the driving experience.
Virtual, Mixed Reality Market to Reach $30 Billion
July 22, 2020
New IDTechEx report looks at COVID-19 impact on VR adoption.
University of Huddersfield Installs VR CAVE
June 10, 2020
Phidias Lab will use VR CAVE system from Antycip Simulation to help students with design concepts.
AWE Online: Unity Unveils MARS, HP Showcases Reverb G2, Scent-integrated VR, more
May 29, 2020
The AR, VR, and MR conference AWE attracts vendors with new products, panelists discuss how the COVID-19 shutdowns accelerate AR, VR, MR technology adoption
Sponsored Content
Better Informed Decision Making, Optimized Product Designs
February 18, 2020
Design review is a critically important part of the product development process and is starting to change dramatically.
Sponsored Content
Advanced Product Design: Earlier Simulation, Faster Iteration, Greater Innovation
February 13, 2020
The detailed design process is complex and requires time, effort, and expertise to tackle efficiently. Visualization and simulation have become key to many organizations, but until now both required too much time to truly influence the early stages of design.
Sponsored Content
Toyota Utilizes NVIDIA Quadro GPUs and Silverdraft Workstation for VR Manufacturing
February 13, 2020
With two Quadro RTX 6000 GPUs powering it's new DemonVR solution, Toyota was free to integrate VR into their development workflow.
BETA CAE Systems Releases Version 20.1.0 of ANSA/EPILYSIS/META Software Suite
January 9, 2020
The v20.1.0 release features more efficient process streamline and acceleration.
Editor's Pick: Using Simulation Data to Create Testing and Training Environments 
January 8, 2020
With the new CM Labs Vortex Studio 2019c, Vortex Studio users can now publish and connect simulations with the Unreal Engine, a popular choice for developing enterprise virtual reality environments.
Visualizing Digital Twins
December 5, 2019
The true cost of deploying and maintaining a digital twin is in collecting and analyzing the data. The data gives life to static 3D models.
Is AR/VR Ready to Go Beyond Visualization?
December 1, 2019
Storytelling is the dominant use of mixed reality devices at present, but may change in the future.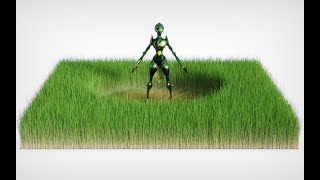 KeyShot 9 with GPU support, new 32-inch holographic display, more
November 14, 2019
Luxion releases KeyShot 9, Looking Glass Factory debut 8K holographic display
Partner Content
Collaboration Revolution in AR/VR
November 8, 2019
Immersive technologies challenge established PLM practices.
flyingshapes° Launches Virtual Reality CAD Application
October 22, 2019
Available now for Oculus Rift and HTC Vive, flyingshapes° streamlines design workflows for precise spatial modeling with intuitive haptic controls and interactive VR toolset.
Latest News
SOLIDWORKS 2021 highlights, KIA uses Varjo ARVR and Autodesk VRED, NVIDIA announces Omniverse
SOLIDWORKS 2021 highlights, KIA uses Varjo ARVR and Autodesk VRED, NVIDIA announces Omniverse
ParaMatters 4.0 Generative Design Software Opens New Door to Automation
Autonomous generative design platform offers structural and thermal design and analysis, support structures and build orientation optimization for entire design-to-manufacturing...
Sandvik to Buy Software Company CGTech
Combined machining expertise of Sandvik Coromant and CGTech will enhance the Group's capabilities in machining intelligence and strengthen the software...
US Government's DLA Awards 6K a near $1M Program to Convert Metals into AM Powder
The Phase II program supports the development and commercialization of a domestic and commercially scalable supply chain for high-performance metal...
All posts