Varjo Announces VR-1 Eye-Resolution VR Headset
February 19, 2019
Virtual reality headset incorporates technology including 60-PPD resolution Bionic Display, integrated 20/20 eye tracker and more.
CoreTechnologie Presents new CAD Modeling Software
February 8, 2019
With the "balloon" function of the latest software version of CoreTechnologie's 3D_Evolution Simplifier, the selection of interior or exterior parts can now be fully automated.
Rivian Off Roads Electric Vehicle Design
January 28, 2019
Startup leverages "clean slate" design for a set of adventure electric vehicles that push boundaries on battery, off-road performance.
Sponsored Content
It Takes a Beast to Handle Beastly Data Loads
January 24, 2019
Simulation, rendering, artificial intelligence and virtual reality jobs demand way more than your everyday workstation.
Hackrod: Build a Car from the Bedroom
January 20, 2019
Custom car company Hackrod applies gamification to vehicle design using online collaboration, VR, and 3D printing.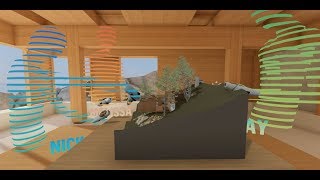 Partner Content
A Reality Check for AR/VR
January 14, 2019
As hype and speculation give way to practical concerns, augmented and virtual reality developers continue to incorporate new innovations into their offerings.
Siemens Releases Teamcenter 12.1 and 11.6, and Active Workspace 4.1
January 11, 2019
Enhancements target the areas of BOM management, systems engineering and virtual reality with this release.
AR-VR: Beyond Joysticks and Touchscreens
December 19, 2018
Voice command, hand gesture, texture mimicry and other advances bring a greater touch of naturalism to AR-VR.
Hackrod is Using Lightworks' SLIPSTREAM to Design its Concept Speedster
December 14, 2018
Hackrod is using virtual reality prior to manufacturing the car using 3D printing processes.
Simulating Humans
November 9, 2018
HPC-backed in silico simulation could fuel the next revolution in clinical studies and treatment development.
Virtual Reality Strategy Conference 2018: New Ways to Interact with Pixels
October 29, 2018
Analyst firm Greenlight Insights hosts Virtual Reality Strategy Conference in San Francisco
WorldViz Releases VizMove VR 2.0
October 11, 2018
 VizMove VR helps organizations create and display large-scale VR experiences to advance their communication, collaboration and research goals.
Atheer Unveils New AR Management Platform Category
October 11, 2018
Atheer's recently debuted AR Management Platform category marks the first step in realizing the AR Management Platform vision with broader gesture support, contextualization, deeper hardware integration and improved voice transcription, the company reports.
Synaptics' VR Display Driver and Bridge Up the User Experience
September 6, 2018
Synaptics' VR Display Driver and VR Bridge blend dual 2K image quality, foveal transport technology, DP1.4 connectivity performance.
LIVE Roundtable: Adding a Sense of Touch in AR-VR
August 16, 2018
Panelists discuss professional AR/VR for enterprise training, market size and trends, and challenges in adopting haptic technologies
Latest News
SolidWorks World 2019: Debut of 3D EXPERIENCE.Works, Launch of xShape, Event Name Change, and More
SOLIDWORKS World to be rebranded 3DEXPERIENCE World, event marks the launch of 3DEXPERIENCE.Works,...
Applied Automation Technologies and DMG MORI USA Announce Partnership
Partnership of two companies will focus on management of on-machine measuring software.
Siemens Updates NX Software with Artificial Intelligence and Machine Learning
Latest release of NX software enhanced with new capabilities that leverage machine learning and...
ZWCAD 2019 SP2 Just Released
Compared with ZWCAD 2019 SP1, the efficiency of SP2 has been further enhanced.
All posts