Top Story
Campfire 3D Launches Collaboration App for Meta Quest
October 23, 2023
Campfire 3D debuts AI-powered in-app assistant, called Spark, in collaboration app for Meta Quest
Campfire 3D Launches Collaboration App for Meta Quest
October 23, 2023
Campfire 3D debuts AI-powered in-app assistant, called Spark, in collaboration app for Meta Quest
Unveiling EON IntelliScan: 360-Degree Interactive Experiences
October 13, 2023
Technology blends AI with 360-degree capture to transform everyday spaces into immersive learning environments.
Theorem Solutions Unveils Extended Reality Offering
August 4, 2023
In this release, augmented reality users can now benefit from new embedded QR Code features, which allow for model loading. 
Utilizing Extended Reality & IIoT in Manufacturing
July 12, 2023
The manufacturing industry is poised to leap forward with the advent of extended reality technologies and the integration of the IIoT. Both offer the potential to increase efficiency, improve employee training, and better track materials.
Automotive Manufacturing Gone Virtual
June 16, 2023
AR, VR, digital twins and 3D prototyping all play roles in the future of the automotive market.
FARO Partners With Hologate
June 8, 2023
HGXR systems will integrate FARO digital scanning technology.
Lenovo ThinkReality VRX Is Now Available
June 2, 2023
Virtual reality headset comes in a compact form factor with mixed reality capabilities for immersive training, collaboration and 3D design.
VR i4 MEETING Platform from CAD Schroer Updated
February 17, 2023
i4 MEETING is a platform for virtual meetings and offers a more realistic and productive VR experience, CAD Schroer says.
XR Brings Greater Clarity to Automotive Design
January 19, 2023
While the technology is still evolving, it also offers a lot of possibilities to automakers.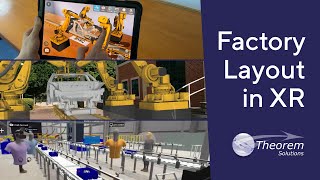 Bridge the Gap Between Digital and Physical by Using XR for Planning and Layout
December 13, 2022
Using Extended Reality (XR) is helping to bridge the gap between the digital and physical when creating and planning factory and plant layouts.
AR, MR or VR: Which Technology is Right for your Engineering Use Case?
July 26, 2022
Augmented, Mixed or Virtual Reality? This is a key question. You will need to understand the features and benefits of each technology type before looking to build and implement your XR strategy.
Bricsys Teams Up With VREX to Accelerate Virtual Reality Workflow
July 12, 2022
Companies on a mission to boost to VR workflow.
Varjo's Urho Konttori on Streaming VR
May 12, 2022
Varjo founder and CEO Urho Konttori explains the implications of streaming VR content delivered from the cloud
A Tale of Two Laptops: HP ZBook Fury 15 G8 mobile workstation
March 31, 2022
DE looks at two configurations of HP's top-of-the-line 15-in. mobile workstation.
Audi Dips Into Automotive VR
March 22, 2022
Beginning in the summer of 2022, Audi aims to become one of the first manufacturers to convert the automobile into an experience platform for virtual reality, company says.
Latest News
CIMdata Supports the PLM Green Global Alliance
CIMdata's Sustainability and Green Energy Practice Director Mark Reisig will moderate the Alliance's coverage of PLM and Green...
SprutCAM X Updates with Collision Avoidance
Collision Avoidance option now features an updated calculation algorithm.
Introducing Autodesk Fusion Industry Cloud
Built on the Autodesk Design & Make Platform, Fusion industry cloud is designed to transform product design and manufacturing by unifying...
ESTECO, Optimad Partner to Offer Embedded Explainable AI
This venture will bring machine learning and explainable artificial intelligence capabilities into ESTECO software solutions, the company reports.
What Will Digital Twins Look Like in 5 Years?
A clear definition and view of the technology is only now taking shape.
Flow Science Releases FLOW-3D POST 20
FLOW-3D POST 2023R2 introduces support for a new results file format that enables faster postprocessing, the company reports.
All posts