Partner Content
Field-Driven Design for Rapid Engineering and Collaboration
May 29, 2019
A new approach to multifunctional design uses fields to encapsulate shape, physics and manufacturing process in a single, unified environment.
Partner Content
Simulations Slow?
March 8, 2019
More complex, higher-fidelity simulation workflows drive hardware upgrades.
Partner Content
Artificial Intelligence, Machine Learning and Deep Learning for Design
March 8, 2019
Break down the buzzwords to understand and successfully apply AI.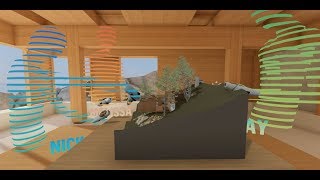 Partner Content
A Reality Check for AR/VR
January 14, 2019
As hype and speculation give way to practical concerns, augmented and virtual reality developers continue to incorporate new innovations into their offerings.
Partner Content
Сreating Patient-specific Chest Implants with Artec 3D Scanners and Geomagic Freeform Software
January 4, 2019
3D scanning is now being used by both public and private healthcare to tailor to specific patient needs.
Partner Content
CAD Embedded CFD: Overhyped, but a Good Value for Some
December 14, 2018
One particularly beneficial aspect of CAD-embedded or CAD-linked CFD is its potential for enabling and streamlining parametric studies.
Partner Content
SLA 3D Printing With Engineering Materials
October 12, 2018
In this webcast, Kevin Gautier, Channel Application Engineer at Formlabs, will walk you through the SLA 3D printing process from initial concept in CAD to finished physical part and share a range of applications you can use with our Engineering...
Partner Content
DE Making the Case for Simulation of Additive Manufacturing
October 12, 2018
Increase additive manufacturing efficiencies and lower production costs with upfront simulation.
Partner Content
Visual Velocity Boosts Productivity
October 12, 2018
Research proves the importance of displays to increase engineering productivity as 4K resolution becomes standard. The increased clarity in 4K is also driving new use cases.
Partner Content
Streamline Your Additive Workflow
October 12, 2018
Minimize build failures and optimize designs using latticing tools, build supports and automatic part packing. Simulate and predict the thermomechanical response of additive parts during the metal powder bed fusion and directed energy deposition manufacturing processes.
Partner Content
Selecting the Right Workstation for Simulation
September 20, 2018
This e-guide provides key principles for choosing a workstation best suited for engineering simulation. With proper configuration, workstations can help drive significant productivity gains for users, enable digital transformations across organizations, and, ultimately, deliver greater competitive advantages.
Partner Content
Cloud 3.0: The Rise of Big Compute
September 10, 2018
The success of deep learning as the first Big Compute killer app signals an inflection toward exponentially greater use of large-scale, specialized computing.
Partner Content
Stratasys Carbon Fiber
August 1, 2018
From production-grade parts to tooling, learn more about the seven benefits of 3D printing in manufacturing.
Simulation Focus: Conference on Advancing Analysis and Simulation in Engineering (CAASE) Preview
May 8, 2018
The CAASE18 (Conference on Advancing Analysis and Simulation in Engineering) kicking off June 5-7, 2018 on the south shore of Lake Erie in Cleveland, OH plans to take the engineering analysis community by storm. The event is expected to play host...
Why Attend Technical Conferences?
October 1, 2017
A conference experience is very much about deciding what you hope to gain.
Latest News
WIN Enterprises Announces the MB-65040 Mini-ITX with Intel Scalable Skylake Processor
MB-65040 supports the Intel Skylake-S CPU and Intel H110 chipset.
Auburn University Deploys $1.5 Million Digital X-Ray CT System for Additive Manufacturing Purposes
Customized system enables layer-by-layer quality assessment in real time.
CONTACT Software Issues CONTACT Elements Release with Software Modules
Users can benefit from comprehensive functional enhancements and the integration of agile processes.
Mobile Analysis 3D and 2D CAD Viewer "to Go" Now on Market
The CoreTechnologie 3D_Analyzer Viewer is now available through a mobile license-lending feature.
All posts