Top Story
Coronavirus Updates: Latest Tech Show Cancellations or Postponements
September 28, 2020
Periodically updated list of engineering, manufacturing, and technology shows cancelled or postponed due to coronavirus concerns
Coronavirus Updates: Latest Tech Show Cancellations or Postponements
September 28, 2020
Periodically updated list of engineering, manufacturing, and technology shows cancelled or postponed due to coronavirus concerns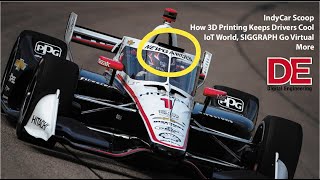 IndyCar Scoop on How to Keep Drivers Cool, IoT World and Siggraph Go Virtual, More
August 20, 2020
In August 20 Episode of DE News Roundup, 3D printed device keeps cockpit cool at IndyCar, IoT World and Siggraph go virtual, SimulationHub uses CFD design airborn contagion isolation rooms
IoT World Virtual: COVID Cements the Need for Connectivity, Digitization
August 12, 2020
Annual IOT conference examines how COVID rehapes digitlization projects, data analytics, and digital twin adoption
IoT World 2018: Devices without Data are Dead
May 18, 2018
IoT World 2017: Hungry for Data, Learning from AI, Learning to Read Emotions
May 25, 2017
IOT World 2016: Using Artificial Intelligence to Harvest Business Intelligence
May 17, 2016
Latest News
Corel Offers Black Friday Deals on CorelDRAW
Company extends holiday savings on products that enhance your productivity, design, photo and video editing.
Luxion Releases KeyShot 10
KeyShot 10 adds new ​Keyframe Animation and other animation capabilities, new ​Smart Export options for output to full-color 3D prints, AR...
SynDaver Offers 3D Printing Holiday Discount
Take more than $1,000 off SynDaver Axi 3D printer for Black Friday, Cyber Monday.
PTC and Ansys Link CAD, Simulation
New Creo Ansys Simulation brings simulation to the modeling environment.
All posts