Top Story
Striving for Zero
February 1, 2019
Reducing, or even eliminating, the use of physical prototypes can yield tremendous benefits. The question is: How do you proceed?
FARO Launches FARO RevEng for Design Professionals
February 21, 2019
This is a scan-to-CAD software solution for the FARO Design ScanArm.
Varjo Announces VR-1 Eye-Resolution VR Headset
February 19, 2019
Virtual reality headset incorporates technology including 60-PPD resolution Bionic Display, integrated 20/20 eye tracker and more.
FELIXprinters Launches Large Build Envelope Industrial Additive Manufacturing Solutions
February 14, 2019
FELIXprinters introduces the Pro L and XL Systems, expanding its industrial range of additive manufacturing machines.
Cool Idea! Award Grant Helps Push Automated Ear-Care Device toward Commercialization
February 1, 2019
Protolabs' Cool Idea! Award helps SafKan in meeting customization requirements during beta program stage.
Striving for Zero
February 1, 2019
Reducing, or even eliminating, the use of physical prototypes can yield tremendous benefits. The question is: How do you proceed?
Renishaw Expands European Reach of AM Solutions Centers
January 23, 2019
Renishaw's Solutions Centres are equipped with the latest AM systems, including Renishaw's multi-laser machines, as well as metrology, finishing and machining equipment.
Carbon and Ford Boost Collaboration to Digitally Manufacture Durable, End-Use Parts
January 21, 2019
Sintratec Offers Fully Integrated SLS System
January 18, 2019
Users benefit from a complete 3D printing system covering the entire processes from printing to post-processing, the company reports.
CoreTechnologie Presents new 4D_Additive Manufacturing Software Suite
January 17, 2019
The German-French company has introduced a software suite to prepare CAD models for all major 3D printing methods.
Hensoldt Purchases Nano Dimension DragonFly Pro System
January 15, 2019
Early DragonFly Adopter Hensoldt uses Nano Dimension's precision additive manufacturing platform for printed electronics to conduct rapid prototyping.
Ultimaker Reveals new Cura Interface
January 14, 2019
Ultimaker Cura's new interface features what is said to be a more logical workflow, based on user research.
FELIXprinters Launches Pro 3D Printer for Industrial Applications
January 14, 2019
This 3D printer is an intuitive, easy-to-use manufacturing tool for every stage of the product development workflow, the company reports.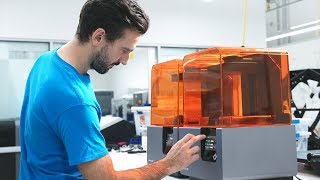 Inside Google ATAP: Blending Preproduction and 3D Printing
January 10, 2019
The Google Advanced Technology and Projects (ATAP) lab focuses on the future of products and production
JETCAM Releases v20.25.00 of Expert Nesting Software, v3.19 of JOC Automation Software
January 8, 2019
The latest release of JETCAM Expert is said to benefit from several major enhancements, including application of fly cutting during the tooling process.
Granta MI Version 12 Now on Shelves
January 3, 2019
Software contains new features for additive manufacturing, compliance, product lifecycle management support and more.
Latest News
Exploring Digital Transformation as an Evolutionary Journey
SolidWorks World 2019 presentation advises to forget about specific products and work on themes that...
Dassault Systèmes to Acquire Trace Software's elecworks Product Line
Elecworks is at the core of SolidWorks Electrical applications used for smart product development...
UL Opens Catalog of Safety Standards
A library of more than 1,400 standards is now available to all.
AMD Radeon Pro Software for Enterprise 19.Q1 Features SolidWorks Performance Improvements
Radeon Pro Software for Enterprise 19.Q1 updates product design workflows with features aimed at...
All posts