Top Story
The Case for Engineering Outsourcing
April 1, 2019
Bringing engineering service provider benefits into focus.
80-Plus Companies Make Print Profiles for Ultimaker's Material Alliance Program
April 12, 2019
Ultimaker first formed the program in April 2018 to meet the demand for industrial-grade engineering 3D printing materials.
Stratasys Inks Agreement with Pantone
April 12, 2019
Under terms of the agreement, Stratasys now becomes a 3D printing solutions provider with technology officially designated as PANTONE Validated.
Polyga Expands HDI Compact 3D Scanner Series
April 11, 2019
Polyga adds two more models, the HDI Compact L6 and the C504, to the 3D scanner line.
Massivit 3D Launches New Versatile Massivit 1800 Pro 3D Printing Solution in the U.S.
April 9, 2019
Massivit 3D's new Massivit 1800 Pro offers new features including Variable Resolution and more.
Championship-Level Disabled Athletes Tap into 3D Printing's Potential
April 8, 2019
3D printers were beneficial in designing an ergonomic hand bike handle for Florian Jouanny, the first European tetraplegic athlete who completed the Ironman Triathlon.
Sintratec Debuts New Sintratec S2 SLS Solution
April 5, 2019
The modular and compact selective laser sintering system is built for scalability.
BigRep Showcases BigRep PRO 3D Printer at Hannover Messe 2019
April 2, 2019
New BigRep 3D printer is automated and 5G connected; showcase marks next step in development partnership between BigRep and Bosch Rexroth.
Desktop Metal Ships Studio System
April 2, 2019
Desktop Metal's new Studio System is designed to be an office-friendly metal 3D printing system; now shipping in U.S. with 2-week lead time.
The Case for Engineering Outsourcing
April 1, 2019
Bringing engineering service provider benefits into focus.
Aiming to be the Amazon of On-Demand Manufacturing
April 1, 2019
Vendors enter the field, adding new networks for ordering custom parts and prototypes.
Stanley Black & Decker Partners with AstroPrint to Create a Distributed Network of 3D Printers
March 21, 2019
With AstroPrint's Enterprise Cloud, Stanley Black & Decker will automate its additive manufacturing systems and workflows on a single platform.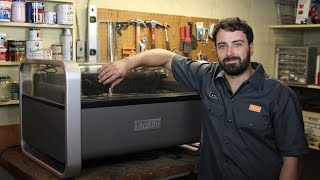 WAZER Offers Desktop Take on Traditional Water Jet
March 19, 2019
WAZER offers sophisticated cutting and material processing capabilities at a price point and with the accessibility of desktop office printers.
Titan Robotics Collaborates with Materials Suppliers for Printing of Materials at AMUG 2019
March 18, 2019
To demonstrate printing of production parts using materials on the Atlas 3D printer platform, Titan is partnering with three chemical companies serving the additive manufacturing industry: Arkema Inc., DuPont and NatureWorks. 
Fictiv Secures $33M Series C to Scale Cloud-Based Contract Manufacturing Platform
March 11, 2019
Funding intended to help Fictiv build hardware products via platform investments and expansion of its global manufacturing network, company says.
Sponsored Content
How to Keep Pace with 3D Printing Technology
March 6, 2019
Prototyping and Manufacturing Services to Help Satisfy Modern Market Expectations eBook explains the benefits of outsourcing 3D printing design engineering work.
Latest News
Hexagon Releases Latest Update of EDGECAM
New release supports fast 5-axis machining tools; software features barrel cutter support and new gun drilling cycle.
Systems Engineering Software Update Advances Multidiscipline Simulation
Siemens PLM Software releases a full plate of new features in Simcenter Amesim 2019.1. 
Sponsored Content
Editor's Pick: Multi-domain Systems Analysis Just Got Easier
Siemens PLM Software updates Simcenter Amesim with new features in four broad categories.
Researchers Freeze-Print Graphene Battery Anodes
A team at Kansas State University used a freeze printing approach to create sodium ion batteries with hybrid graphene aerogels.
All posts