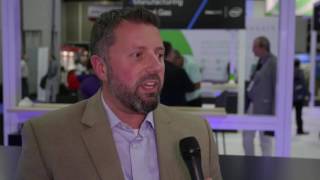 Sponsored Content
See Biomolecules Clearly
November 9, 2018
HPC helps researchers visualize molecular processes in high resolution.
New Print Method Boosts Composites Strength
February 6, 2018
The Harvard team has decoupled fiber orientation from the print path using a rotational printhead that also generates a shear field as the ink is deposited.
Harvard Prints Heart-on-a-Chip
January 11, 2017
Harvard has created a 3D printing process for creating organs on a chip.
Beyond Organic Shapes
January 3, 2017
The pursuit of biomimicry shouldn't be confined to mimicking natural shapes.
3D Printing Helps Unlock Brain Mystery
February 15, 2016
Harvard researchers studied the physical forces that explain the development of folds in the brain using a 3D printed model.
Multiply 3D Printing's Material Benefits
September 1, 2015
Multi-material 3D printing delivers new levels of realism.
Self-Organizing Robotic Construction Crew
December 4, 2001
Robotic Insects Take Flight
December 4, 2001
Latest News
AU2021: May the Forge be with You
Autodesk brings its focus back on the Forge development platform, hints at more access to Forge via APIs, announces two...
Hexagon Unveils Image-Recognition AI for CAE
ODYSSEE A-Eye offers access to digital twins through AI applications that require less input data and can read images to...
America Makes Has New Directed Project Call Worth $1M
Project aims to advance domestic ability to make AM components for Aerospace and Defense High Mach Applications 
Shapeways Introduces Otto Software-as-a-Service
This gives manufacturers free access to 3D printing manufacturing services.
All posts