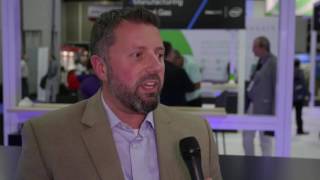 Sponsored Content
See Biomolecules Clearly
November 9, 2018
HPC helps researchers visualize molecular processes in high resolution.
New Print Method Boosts Composites Strength
February 6, 2018
The Harvard team has decoupled fiber orientation from the print path using a rotational printhead that also generates a shear field as the ink is deposited.
Harvard Prints Heart-on-a-Chip
January 11, 2017
Harvard has created a 3D printing process for creating organs on a chip.
Beyond Organic Shapes
January 3, 2017
The pursuit of biomimicry shouldn't be confined to mimicking natural shapes.
3D Printing Helps Unlock Brain Mystery
February 15, 2016
Harvard researchers studied the physical forces that explain the development of folds in the brain using a 3D printed model.
Multiply 3D Printing's Material Benefits
September 1, 2015
Multi-material 3D printing delivers new levels of realism.
Self-Organizing Robotic Construction Crew
December 4, 2001
Robotic Insects Take Flight
December 4, 2001
Latest News
Leading NVIDIA Channel Partner, PNY Technologies, Supports Data Science for Product Development
Detailing PNY Technologies' involvement with the NVIDIA-Powered Data Science Workstation specification.
Sponsored Content
Editor's Pick: Tapping Into Data Science for Product Development
PNY Technologies delivers NVIDIA's Data Science Workstation specification.
XR Transforming Design, Visualization
Ford, BASF discuss extended reality in VR Intelligence webinar.
ANSYS and Autodesk Light Up Automotive Design
Software providers provide deep integration between the VRED 3D visualization and ANSYS optical simulation solution to streamline vehicle design and...
All posts