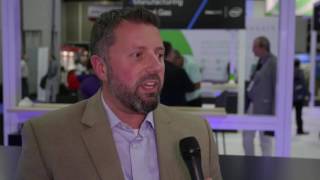 Sponsored Content
See Biomolecules Clearly
November 9, 2018
HPC helps researchers visualize molecular processes in high resolution.
New Print Method Boosts Composites Strength
February 6, 2018
The Harvard team has decoupled fiber orientation from the print path using a rotational printhead that also generates a shear field as the ink is deposited.
Harvard Prints Heart-on-a-Chip
January 11, 2017
Harvard has created a 3D printing process for creating organs on a chip.
Beyond Organic Shapes
January 3, 2017
The pursuit of biomimicry shouldn't be confined to mimicking natural shapes.
3D Printing Helps Unlock Brain Mystery
February 15, 2016
Harvard researchers studied the physical forces that explain the development of folds in the brain using a 3D printed model.
Multiply 3D Printing's Material Benefits
September 1, 2015
Multi-material 3D printing delivers new levels of realism.
Self-Organizing Robotic Construction Crew
December 4, 2001
Robotic Insects Take Flight
December 4, 2001
Latest News
Bright Cluster Manager Is Now Qualified Software Stack for Intel Select Solutions for Simulation & Modeling
Bright Cluster Manager is a commercial cluster management software designed to automate the process of installing, provisioning, configuring, managing, and...
AMUG Gives Out DINO Awards
Award recognizes experience and service.
Nextflow Software Introduces Nextflow Studio
This fluid simulation software lets engineers easily manage their simulation projects and provides a graphical user interface (GUI) based on...
Ralf Hartmann of Airbus Defense & Space to Keynote ASSESS 2019 Congress
Hartmann's keynote presentation's title is "Multidisciplinary Integration Towards the Digital Twin."
All posts