Top Story
Real-Time Ray Tracing Arrives
June 1, 2019
We test three of the new NVIDIA Quadro RTX GPUs.
Sponsored Content
How NVIDIA QUADRO RTX is Transforming Architectural Visualization
March 17, 2020
Through their Turing architecture, NVIDIA Quadro RTX GPUs are changing the way that architectural professionals work.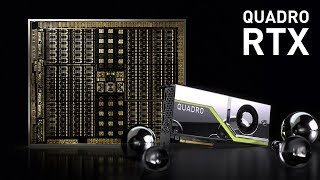 Sponsored Content
Passively Cooled Quadro RTX 8000 and RTX 6000 GPUs Optimized for the Data Center
February 25, 2020
The demand for visualization, rendering, data science and simulation continues to grow as businesses tackle larger, more complex workloads than ever before. However, enterprises looking to scale up their visual compute infrastructure face mounting budget constraints and deployment requirements.
Sponsored Content
Post Design Sales & Marketing of Manufactured Products
February 20, 2020
GPU-Powered workflows to enhance marketing asset creation, the customer purchase experience and production training.
Sponsored Content
Better Informed Decision Making, Optimized Product Designs
February 18, 2020
Design review is a critically important part of the product development process and is starting to change dramatically.
Sponsored Content
Advanced Product Design: Earlier Simulation, Faster Iteration, Greater Innovation
February 13, 2020
The detailed design process is complex and requires time, effort, and expertise to tackle efficiently. Visualization and simulation have become key to many organizations, but until now both required too much time to truly influence the early stages of design.
Sponsored Content
Toyota Utilizes NVIDIA Quadro GPUs and Silverdraft Workstation for VR Manufacturing
February 13, 2020
With two Quadro RTX 6000 GPUs powering it's new DemonVR solution, Toyota was free to integrate VR into their development workflow.
Real-Time Ray Tracing Arrives
June 1, 2019
We test three of the new NVIDIA Quadro RTX GPUs.
Dispatches from SIGGRAPH 2017: External Quadro GPUs, AI-Accelerated Rendering, and Early Peeks into NVIDIA's Holodeck
August 2, 2017
Prelude to GTC 2017: Touch and Feel the Pixels in Your Virtual Car
April 25, 2017
SIGGRAPH 2016: GPU Makers Target AR/VR Market
August 2, 2016
Latest News
Bringing a Comic Book Hero to Life
Effects artists used a combination of digital modeling, animation, CAD and 3D printing to build the massive S.T.R...
Fictiv, Jabil Set Up Agile 3D Printing Collaboration
Joint digital thread accelerates and de-risks product development in move from prototyping and low-volume production to large-scale global fulfillment.
Akselos Joins Revolution in Simulation's Global Alliance of Participants
Akselos adds its name to a steadily increasing list of contributors that include Ansys, Aras, BETA CAE, Beyond CAE, Dassault...
Aras Releases Application for Creating, Managing Digital Twins
Digital Twin Core app helps companies create digital twins for any product or system.
All posts