Top Story
ANSYS Provides Path to Cloud HPC
February 20, 2019
ANSYS Cloud delivers on-demand cloud HPC access within the ANSYS portfolio to democratize simulation.
Ultimaker Unveils new Platform Services with Ultimaker Cloud
February 21, 2019
Future-ready cloud platform designed to support the 3D printing workflow.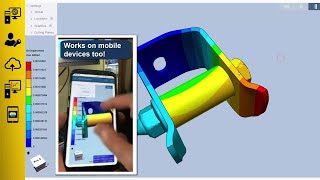 ANSYS Provides Path to Cloud HPC
February 20, 2019
ANSYS Cloud delivers on-demand cloud HPC access within the ANSYS portfolio to democratize simulation.
ANSYS Launches ANSYS Cloud to Boost Business Agility
February 5, 2019
ANSYS Cloud enables instant access to cloud HPC from within ANSYS flagship products.
Connecting the Thread: 5G
February 1, 2019
5G wireless may bring benefits to cloud-based CAD, IoT, simulation and digital twins.
Game on for 5G
February 1, 2019
Predictive Maintenance Improves Efficiency
February 1, 2019
Considering the aggressive time to market required for industrial products and services, it is crucial to identify the cause of potential failures before they occur.
Collaboration Platform Fuels Innovative Race Car Design
December 27, 2018
Nicolas Perrin's autonomous, electric Le Mans Prototype race car Project 424 relies on open access design and new communications platform.
Partner Content
The Growing Acceptance of CAE
December 18, 2018
Teradici Expands Support For Multicloud Environments
December 7, 2018
Enables companies to use any public, private or hybrid clouds to build secure remote virtual workstations.
Supersonic Comeback
December 1, 2018
Engineering startups and government agencies revisit the possibility of supersonic flight.
Sponsored Content
Multi-fidelity Optimization with Cloud Services
December 1, 2018
Multi-fidelity optimization saves time and cost, while maintaining accuracy.
UberCloud Wins Three Awards for CAE in the Cloud
November 28, 2018
Awards recognized UberCloud's work in the fields of moisture transfer simulation and electrostimulation of the brain in schizophrenia.
UberCloud Available in the Microsoft Azure Marketplace
November 12, 2018
Microsoft Azure customers worldwide gain access to UberCloud to apply Microsoft Azure's scalability, reliability and agility of Microsoft Azure to transform their R&D organizations.
Arena Solutions Acquires Omnify Software
November 12, 2018
Arena Solutions will maintain support for Omnify's family of products while leveraging the combined experience of both companies to accelerate development of future products and provide a path forward for the combined customer base. 
Sponsored Content
Computing Cures to the Cloud and Back
November 9, 2018
Warch hybrid computing in action at Virginia Tech.
Latest News
Exploring Digital Transformation as an Evolutionary Journey
SolidWorks World 2019 presentation advises to forget about specific products and work on themes that...
Dassault Systèmes to Acquire Trace Software's elecworks Product Line
Elecworks is at the core of SolidWorks Electrical applications used for smart product development...
UL Opens Catalog of Safety Standards
A library of more than 1,400 standards is now available to all.
AMD Radeon Pro Software for Enterprise 19.Q1 Features SolidWorks Performance Improvements
Radeon Pro Software for Enterprise 19.Q1 updates product design workflows with features aimed at...
All posts