AMRC Installs Metal Additive Machine in Europe
November 2, 2020
Installation at the AMRC North West facility in Preston, UK and operator training for technical staff was provided by RAM Engineering and Tooling LTD, based in Scotland.
Massivit 3D and Biesse Group Sign Technology Partnership
November 2, 2020
Agreement facilitates new, advanced hybrid manufacturing technologies for the automotive, marine, composite materials, furniture, construction and aerospace arenas.
A Match Made in Heaven
November 1, 2020
Additive manufacturing and generative design tools can be tapped as a dynamic duo to create and build parts fully optimized for weight and cost.
Lighter by Design
November 1, 2020
Generative design can help engineers meet new lightweighting requirements.
GoProto Introduces New 3D Printing Parts Service
October 29, 2020
Service features elastomeric TPA (thermoplastic polyamide), enabling the production of rubber-like parts that was otherwise unachievable by traditional manufacturing methods.
Kubotek3D Releases KeyCreator 2021
October 29, 2020
Release said to offer efficient and agile CAD tools for manufacturing.
ExOne Awarded Contract to Develop High-Strength Steel for US Air Force
October 26, 2020
Parts additively manufactured with AF-9628 are about 20% stronger than conventional AM alloys.
Ball Aerospace to Deploy 3DEXPERIENCE Platform as Manufacturing Solution
October 26, 2020
The 3DEXPERIENCE platform works as a single integrated solution to support program execution activities.
HOOPS Toolkits Bring 3D Capabilities to Manufacturing Hub
October 26, 2020
Eurostep brings 3D data access and visualization to its flagship solution, with aim to simplify global manufacturing processes.
Hexagon Kicks Off 100%EV Automotive Initiative
October 26, 2020
Goal is to boost electric vehicle development.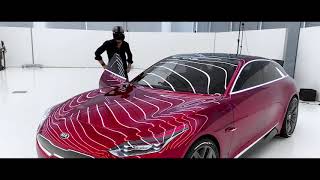 SOLIDWORKS 2021 highlights, KIA uses Varjo ARVR and Autodesk VRED, NVIDIA announces Omniverse
October 23, 2020
SOLIDWORKS 2021 highlights, KIA uses Varjo ARVR and Autodesk VRED, NVIDIA announces Omniverse
Sandvik to Buy Software Company CGTech
October 22, 2020
Combined machining expertise of Sandvik Coromant and CGTech will enhance the Group's capabilities in machining intelligence and strengthen the software offering, companies say.
US Government's DLA Awards 6K a near $1M Program to Convert Metals into AM Powder
October 22, 2020
The Phase II program supports the development and commercialization of a domestic and commercially scalable supply chain for high-performance metal powders from scrap sources.
MxD Awarded $15 Million to Boost U.S. Manufacturing's COVID Response
October 22, 2020
CARES Act Funding will support supply chain resiliency, medical device deployment and pharmaceutical industry production.
VELO3D Unveils Sapphire XC, Large-Format 3D Metal Printer
October 22, 2020
The company also announced plans to roll-out Sapphire Gen 2, which will be a software and hardware upgrade to the current system.
Latest News
Three Ways Generative Design is Transforming Business
Generative design is an exploration tool that uses artificial intelligence and machine learning to simultaneously generate multiple solutions based on...
Generative Design Helps Create New Wheels that are 35% Lighter
By using generative design technology, Briggs Automotive Company (BAC) was able to shed an additional 4.8 kilograms (10.5 lbs) for the latest...
Hyundai is Driving Mobility Innovation with Generative Design
Hyundai Motor Group is pushing the boundaries of vehicle development and reimagining how vehicles might traverse the world. In a...
How to Get Started with Generative Design
Generative design allows you to simultaneously generate multiple CAD-ready options based on real-world manufacturing constraints and product performance requirements. Try...
All posts