Editor's Pick: Automate Analysis of Complicated Discrete Loads
December 17, 2019
Altair EDEM 2020 discrete element analysis software is made for bulk and granular material simulation.
Altair Acquires DEM Solutions
November 8, 2019
Acquisition expands solver portfolio into discrete element method analysis.
Bulk Material Simulator Updated
January 9, 2019
EDEM 2019 rolls out new multi-GPU solver engine and tools for post-processing large amounts of data.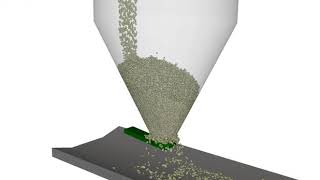 ESSS Releases Rocky DEM Version 4.2 Software
December 20, 2018
Discrete element method simulation software enhances particle collision analysis, spring and damper motion, fiber modeling improvements, and ANSYS Workbench integrated fluid–particle simulation.
EDEM Updates its Flagship Software
December 14, 2018
Features and tools are being introduced, including a Python library for easier post-processing of large amounts of data, the ability to simulate deformable geometries as well as a new breakage model.
EDEM Updates Flagship Software
October 23, 2017
EDEM 2018 focuses on productivity and performance and includes features and enhancements that aim to enable users to speed up their workflow from setup to processing and analysis of simulations, the company reports.
EDEM Releases LMS Virtual.Lab Motion Simulation Tool
June 9, 2017
Here's a simulation tool that enables engineers to include realistic bulk material loads as standard in LMS Virtual.Lab Motion multi-body solution.
Discrete Element Method Software Updated
May 14, 2014
New release of EDEM said to offer improve integration with CAE.
Latest News
MakerBot Report Highlights 3D Printing Use in Remote Learning Environments
Findings from MakerBot's new trend report on 3D printing in education show its significance to continue engaging students and...
Xaar and Meteor Inkjet Partner With Dyndrite
Companies deliver integrated, optimized 3D CAD-to-inkjet printhead development environment enabling OEMs to quickly invent new raster inkjet machines.
Companies Develop Sand Binder Jetting 3D Printer for Offshore Wind Turbines
3D printing provides flexibility to produce large turbine components near offshore wind projects, companies say.
Sponsored Content
Bringing Lab Courses to Remote Learning Students with Simulation Applications
At the New Jersey Institute of Technology, one professor and his students designed 15 simulation applications for use in engineering and...
All posts