Top Story
Autodesk Nastran In-CAD
August 31, 2018
Walk through the setup and analysis of a simple bracket to get an overview of Autodesk Nastran, a CAD-embedded finite element analysis software.
IMAGINiT Technologies Launches eLearning Experience for CAD Users and Managers
October 11, 2018
New partnership with Eagle Point enhances ProductivityNOW eLearning Platform for Autodesk software users.
Autodesk Introduces 3ds Max 2019.2
October 8, 2018
Autodesk is committed to responding quickly to 3ds Max user feedback. This release includes over 70 fixes, many of which were submitted by the 3ds Max user community.
Editor's Picks: Sept. 27-Oct. 3, 2018
October 8, 2018
One of the picks will be chosen as DE's Editor's Pick of the Week.
Sponsored Content
CAD Interoperability Survival Guide
October 4, 2018
Everybody favors their CAD solution and that means interoperability havoc in multi-CAD environments. Here's an idea for how to manage the chaos.
Xometry Offers Autodesk Inventor Integration
September 18, 2018
CAD software add-in gives Autodesk Inventor Users instant access to Xometry's custom manufacturing platform.
Autodesk Nastran In-CAD
August 31, 2018
Walk through the setup and analysis of a simple bracket to get an overview of Autodesk Nastran, a CAD-embedded finite element analysis software.
The Hunt for Invisible Damage
August 31, 2018
A peek inside the fatigue analysis discipline of the Federal Aviation Administration.
3Delight Cloud and 3DelightNSI Debut as New Rendering Tools
August 29, 2018
3Delight Cloud and 3DelightNSI rendering tools are available via artist-friendly integration with Foundry's Katana and Autodesk Maya.
Sponsored Content
Resource Explains Generative Design
August 16, 2018
Online resource explains what generative design is and what it could mean for you.
Prepare for Augmented, Virtualized Product Development
August 13, 2018
Laying the groundwork for professional augmented reality and virtual reality apps begins with generating realistic, interactive content.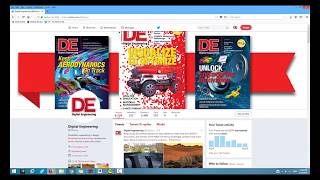 Watch This: Engineering News from 3Diligent, Autodesk, NASA and Fictiv
August 10, 2018
3Diligent takes a stand against 3D printed guns, Autodesk and NASA envision 3D-printed habitats for Mars, and a hardware business report from Fictiv.
Autodesk and NASA Explore 3D Printing for Mars
August 7, 2018
Autodesk, NASA work on proof of concept for 3D-printed habitats on Mars
GM Drives Vehicles of the Future with Generative Design
August 7, 2018
GM and Autodesk engineers apply generative design technology to reconceive a small vehicle component -- the seat bracket where seat belts are fastened. The resulting part is 40% lighter and 20% stronger than the original part.
Renderings that Fool the Eyes and Minds
July 31, 2018
Digital artists discuss their tools and tricks.
Autodesk Fusion 360: All-In-One Modeling
July 31, 2018
Fusion 360 connects product development in a single cloud-based platform.
Latest News
Renesas Electronics Produces R-Car-Compatible Connected Car Software Development Tools
Software development tools made by Renesas Electronics are created for cloud service applications linked...
PTC Offers Free ThingWorx Starter Kit to Massachusetts Manufacturers
Commonwealth of Massachusetts Lt. Governor Karyn Polito, local government dignitaries, and PTC executives to...
GE Aviation Drives Digital Continuity with Dassault Systèmes
Developer of aerostructures is using 3DEXPERIENCE platform to develop digital thread across its business.
3D Systems Gives Wax Casting Gets a Digital Makeover
The ProJet MJP 2500 IC, built on the ProJet 2500 platform, has been tuned specifically for...
All posts