Top Story
Boost CAE Tool Performance with GPU Acceleration
June 9, 2023
At NAFEMS, attendees learned how GPU compute can enhance CAE tools on the Microsoft Azure cloud platform.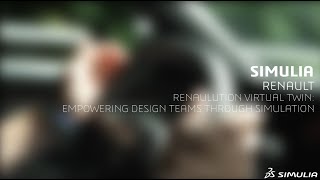 Pascal Remusan - MODSIM Pioneer
September 14, 2023
Pascal Remusan of Renault Group, talks about his presentation at the 3DEXPERIENCE Modeling & Simulation (MODSIM) Conference 2022.
Boost CAE Tool Performance with GPU Acceleration
June 9, 2023
At NAFEMS, attendees learned how GPU compute can enhance CAE tools on the Microsoft Azure cloud platform.
Leadership Profile: TotalCAE's Rodney Mach on How Shorter Time to Market Accelerates Simulation Adoption
January 11, 2023
TotalCAE's Rodney march on how the pressure to bring products to market fast forces manufacturers to adopt HPC-powered simulation
Accelerate Business Value Through Unified Modeling & Simulation
November 20, 2022
Find out how organizations from multiple industries are defining their own MODSIM strategy. Learn from simulation, modeling, and design experts benefiting from a MODSIM approach.
Introduction to MODSIM and Its Implementation Journey
November 15, 2022
Consumers demands are challenging new product development. To effectively meet these new challenges in delivering new products and features to market quickly, efficiently, and safely, the product development and manufacturing cycles must be tuned in a manner that provide the...
Unified Modeling and Simulation
November 14, 2022
Exploring how we do science-based modeling and simulation, and how new paradigms in this field are delivering next-generation product design systems with modeling and simulation at their core.
Accelerate Smart Manufacturng with CAE Simulation
September 1, 2022
Knowledge drives innovation, Innovation drives productivity, Productivity drives economic growth. At Hexagon Manufacturing Intelligence, we follow this message rigorously, ensuring that all our efforts are concentrated on knowledge, cutting-edge innovation, and, most importantly, solving more complex problems because this will...
Cloud-Native CAE Enables Innovation for Remote Workers
August 18, 2022
Cloud-native CAD and CAE allows engineering teams to work remotely very effectively. Set up your own cloud-native simulation via the web in minutes by creating an account on the SimScale platform. No installation, special hardware or credit card is required.
Design & Engineering Simulation
July 24, 2022
Accelerate product development and advance new innovations through virtual prototyping.
FREE WEBINAR July 21: Thermal Management of Electric Vehicle Powertrain
June 28, 2022
In this live webinar, learn how CAE technologies from Hexagon can accelerate development of electric vehicle powertrains.
Unified Modeling and Simulation in a Single Platform
May 15, 2022
MODSIM and the 3DEXPERIENCE Cloud platform enable faster creation and collaboration, leading to more competitive products.
Science-based Modeling and Simulation
May 15, 2022
Reduce the distance between virtual and real to zero.
3DEXPERIENCE Modeling and Simulation Community
May 13, 2022
Become part of our MODSIM Community and learn how how digital modeling and simulation can help them overcome the barriers of traditional CAD and CAE software.
Engineering Design, Simulation, and Shape Optimization
May 5, 2022
In this whitepaper, specialists from Onshape®, SimScale®, and ESTECO cover the implementation of a modern design-simulate-optimize workflow in the product development cycle.
Transforming the Process of Simulation
December 10, 2021
With VCollab, 3D Digital CAE Reports can be created no matter what major CAE solver a company is using. 
Latest News
Keeping Pace With Needs of Workstation Users
Post-pandemic, engineers and designers want a balance between power and form factor for the newest workstations.
RAPID + TCT to Return to West Coast in 2024
AM industry reportedly growing at a rate of 21% through 2027, according to SME.
FREE WEBINAR DEC. 14: Building Shared Context for Effective Digital Twins
In this Rescale webinar, learn how HPC and artificial intelligence can optimize industrial digital twins.
Industry Leaders Shift Strategies to Harvest AI Spring
AI-powered simulation and natural language input poised to become the norm.
Stratasys Partners with Siemens Healthineers
The joint development leverages Stratasys' PolyJet and RadioMatrix technology with Siemens Healthineers' advanced algorithm for scanned patient images.
6K Additive Receives Recycled Content Certification
6K Additive earned the third-party certification from sustainability verification leader SCS Global Services.
All posts