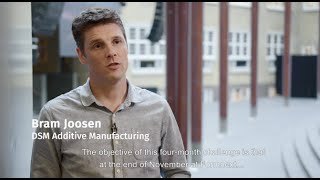 I AM Tomorrow Challenge: DSM and Partners Present Digital Platform for Additive Manufacturing
December 9, 2019
Start-ups and partners in six-month challenge introduce digital workflow to boost adoption of additive manufacturing through digital design and simulation.
DSM and Shapeways Partner to Develop Scalable 3D Printing Solutions
November 25, 2019
The partnership between DSM and Shapeways will allow DSM to continue its ongoing commitment to building a 3D printing ecosystem using Shapeways' technology, the companies report.
DSM and Twikit Offer End-to-End 3D Printing Solutions
November 1, 2019
Companies collaborate on new 3D printed applications in the automotive, healthcare and footwear industries.
DSM and Adaptive3D Partner to Commercialize Tough 3D Printing Photopolymer
May 23, 2019
DSM to help produce, distribute and sell Adpative3D's Soft ToughRubber.
Digimat 2019.0 Democratizes Light-weighting Crash Simulation
March 28, 2019
Support for new material systems, part performances, lifetime predictions and addition of a strong interface to MaterialCenter in this release.
Ultimaker Debuts Material Print Profiles
November 13, 2018
Company also shared the first results of the open Ultimaker Material Alliance Program for the further development of professional desktop 3D printing. 
Ultimaker Launches Third-Party Industrial Material Options
October 1, 2018
Material profiles for DSM Novamid: properties similar to injection molding enabled by 10% carbon fiber; material profiles for Owens Corning XSTRAND filaments: strong mechanical and thermal properties enabled by glass-fiber reinforcement; and new Ultimaker print core CC Red 0.6: 3D printing with...
Optimize your Additive Manufacturing Know-How
January 3, 2017
Learn from the best with these resources for part planning, design for AM, build optimization and other facets of the 3D printing world.
Latest News
SOLIDWORKS 2021 highlights, KIA uses Varjo ARVR and Autodesk VRED, NVIDIA announces Omniverse
SOLIDWORKS 2021 highlights, KIA uses Varjo ARVR and Autodesk VRED, NVIDIA announces Omniverse
ParaMatters 4.0 Generative Design Software Opens New Door to Automation
Autonomous generative design platform offers structural and thermal design and analysis, support structures and build orientation optimization for entire design-to-manufacturing...
Sandvik to Buy Software Company CGTech
Combined machining expertise of Sandvik Coromant and CGTech will enhance the Group's capabilities in machining intelligence and strengthen the software...
US Government's DLA Awards 6K a near $1M Program to Convert Metals into AM Powder
The Phase II program supports the development and commercialization of a domestic and commercially scalable supply chain for high-performance metal...
All posts