Top Story
AI Takes on the Data Quality Challenge
April 21, 2022
By embedding AI tools into their systems, vendors seek to enhance various data management processes.
AI Takes on the Data Quality Challenge
April 21, 2022
By embedding AI tools into their systems, vendors seek to enhance various data management processes.
Nano Dimension Acquires Machine Learning Developer DeepCube
April 20, 2021
Artificial intelligence will drive its 3D-artificial intelligence/machine learning distributed digital fabrication applications.
MathWorks Presents New Release 2020b of MATLAB and Simulink
September 22, 2020
Update includes expanded Simulink access, new products, major updates and hundreds of new features.
MathWorks Partners with NVIDIA's Deep Learning Institute to offer new Deep Learning with MATLAB course
July 16, 2020
Partnership entails new offering of a Deep Learning with MATLAB course.
Microway Delivers NVIDIA DGX A100 to a U.S. Educational Institution 
May 26, 2020
HPC & AI solution provider to deliver advanced AI system to the University of Florida.
MathWorks Release Delivers Additional AI Capabilities to Engineers
May 15, 2020
Engineers can now train neural networks in the updated Deep Network Designer app, manage multiple deep learning experiments in a new Experiment Manager app, and choose from more network options to generate deep learning code.
NVIDIA TensorRT 7's Compiler Delivers Real-Time Inference for Smarter Human-to-AI Interactions
December 20, 2019
TensorRT 7 features a new deep learning compiler designed to automatically optimize and accelerate the complex recurrent and transformer-based neural networks needed for AI speech applications. 
MathWorks Releases 2019b of MATLAB and Simulink
September 19, 2019
In addition, R2019b introduces new products in support of robotics, new training resources for event-based modeling, and updates and bug fixes across the MATLAB and Simulink product families.
Sponsored Content
AI Workstations for Data Science
June 17, 2019
AI Workstations maximize productivity, reduce time to insight, and lower the cost of your data science projects in one robust, readily deployable solution.
Superworkstations!
June 1, 2019
Design engineering workstations have become extremely powerful—where does it make sense to invest your IT budget?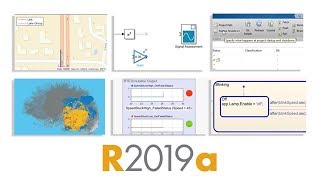 Release 2019a of MathWorks MATLAB and Simulink is Now Available
March 26, 2019
Introduces new products and enhanced capabilities for artificial intelligence, signal processing and static analysis.
Partner Content
Artificial Intelligence, Machine Learning and Deep Learning for Design
March 8, 2019
Break down the buzzwords to understand and successfully apply AI.
Making Autonomous Vehicles Smarter
March 1, 2019
Combining real-world info and simulated conditions to build a data set.
Deep Learning and Design Engineering
March 1, 2019
Designers incorporate AI and deep learning into new products and in their own design processes.
AMD Unveils 7nm Datacenter GPUs
November 7, 2018
AMD Radeon Instinct MI60 and MI50 accelerators with compute performance, high-speed connectivity, fast memory bandwidth and updated ROCm open software platform power deep learning, HPC, cloud and rendering applications.
Latest News
IMAGINiT Launches Clarity 2023
This enterprise-level suite of products can improve architecture, engineering and construction firms' advances in process automation.
Morf3D and Constellium Ink Joint Additive Manufacturing Program
Constellium's Aheadd CP1 offers benefits including thermal and electrical conductivity approaching that of pure aluminium, the company reports.
JIE USA Debuts 3D CAD Configurator Built by CADENAS
Motor and drive manufacturer unveils tool for on-demand, online design and product selection.
HP Shares New Platform Professional Services Updates
During RAPID + TCT, HP debuted new products and solutions.
All posts