Top Story
Release 2019a of MathWorks MATLAB and Simulink is Now Available
March 26, 2019
Introduces new products and enhanced capabilities for artificial intelligence, signal processing and static analysis.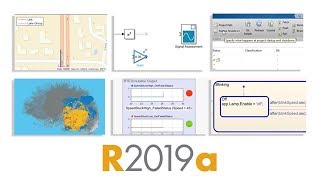 Release 2019a of MathWorks MATLAB and Simulink is Now Available
March 26, 2019
Introduces new products and enhanced capabilities for artificial intelligence, signal processing and static analysis.
Partner Content
Artificial Intelligence, Machine Learning and Deep Learning for Design
March 8, 2019
Break down the buzzwords to understand and successfully apply AI.
Making Autonomous Vehicles Smarter
March 1, 2019
Combining real-world info and simulated conditions to build a data set.
Deep Learning and Design Engineering
March 1, 2019
Designers incorporate AI and deep learning into new products and in their own design processes.
AMD Unveils 7nm Datacenter GPUs
November 7, 2018
AMD Radeon Instinct MI60 and MI50 accelerators with compute performance, high-speed connectivity, fast memory bandwidth and updated ROCm open software platform power deep learning, HPC, cloud and rendering applications.
Hyperconvergence Promises HPC Democratization
November 1, 2018
IT component centralization brings promise for AI and deep learning applications.
MATLAB Dives Into Deep Learning
September 24, 2018
MathWorks has released significant deep learning enhancements in its latest Release 2018b of MATLAB and Simulink.
Partner Content
Cloud 3.0: The Rise of Big Compute
September 10, 2018
The success of deep learning as the first Big Compute killer app signals an inflection toward exponentially greater use of large-scale, specialized computing.
Autonomous Visualization
September 1, 2018
Autonomous driving visualization tools make massive testing scenarios possible.
Deep Learning Accelerates Product Development
May 1, 2018
A typical engineer can grasp the basics of deep learning tools in a day.
BOXX Technologies Introduces new APEXX W3 workstation and GX8-P Deep Learning Server
April 18, 2018
The workstation can support up to four NVIDIA Quadro GV100 graphics cards.
Graphics Power to Change Engineering Workflows
April 11, 2018
Real-time ray tracing and deep learning said to be possible with new GPU.
Rescale's Turnkey Cloud HPC Platform Offers NVIDIA Tesla V100 GPU with NVLink
February 22, 2018
Rescale announces that NVIDIA Tesla V100 GPU accelerators and NVIDIA NVLink high-speed interconnect technology are available on Rescale's ScaleX turnkey cloud platform for AI and high-performance computing.
Cray Adds Arm Processors with Software Stack to Supercomputer
February 22, 2018
Cray is creating a production-ready, Arm-based supercomputer with the addition of Cavium ThunderX2 processors; company also makes other announcements involving AI and storage solutions.
Cray Supercomputer to Aid Samsung's Research on AI and Deep Learning
December 7, 2017
Samsung has purchased a Cray CS-Storm accelerated cluster supercomputer, according to Cray.
Latest News
RAPID+TCT 2019 Drives Additive Manufacturing to Next Level in Motor City
Thousands of attendees delve into 3D printing, the future of manufacturing, digital twins, data management and so much more.
Jabil Inks Additive Manufacturing Agreement to Supply Parts to Renault F1 Team
On-demand delivery of racecar parts for Renault F1 Team driven by expansion at certified Jabil 3D printing facilities worldwide.
ExOne Announces Kennametal as Inaugural Beta Customer for New X1 25PRO Production Machine
ExOne also announced a new material partnership program, as well as more collaboration with Sandvik Additive Manufacturing.
Behind the Scenes at Materialise in the Midwest
Factory tour at Michigan-based 3D printing production facility provides a peek at the company's innovations in the medical sector.
All posts