Sponsored Content
Does Your Workstation's Graphics Performance Measure Up?
August 7, 2020
The SPECviewperf benchmark is an important tool for gauging the graphics performance of an engineering workstation. 
A Perfectly Portable Pair: Lenovo P1, X1 ThinkPads
August 1, 2020
These latest P-series laptops provide a great combination of performance, portability and price.
When Engineering Exits the Building
July 31, 2020
Organizations must find the right technology to support engineers' data-intense workloads as work-from-home numbers increase.
DE Podcast: Analyst Jon Peddie Explains COVID-19's Effect on the GPU Market
June 4, 2020
JPR releases graphics market report for 2020 Q1, shipments down, growth blunted by Coronavirus and shutdowns
Sponsored Content
Data Science Finds New Role in the Fight Against COVID-19
May 26, 2020
GPU-accelerated data visualization and analysis could lead to a better understanding of the virus.
GPU-Driven Engineering
May 1, 2020
Mainstream engineering technology embraces shift to GPU-based real-time rendering.
No One-Size-Fits-All Optimal System
April 15, 2020
Software use and workload should determine IT manager workstation selection.
Sponsored Content
Editor's Pick: NVIDIA-powered data center for high-performance applications
April 8, 2020
BOXX FLEXX rack-mounted data center platform is made for complex product development workflows.
Large-Scale Models Take A Bite Out of Engineering Productivity
March 1, 2020
Hardware vendors and design tool makers are stepping up with solutions aimed at optimizing workstation performance when dealing with large-scale modeling.
The Expanding Role of GPUs in Simulation
March 1, 2020
Legacy code is slower to move to the GPU; a hybrid strategy is recommended.
AMD Radeon Pro W5500 Workstation Graphics Now on Market
February 11, 2020
AMD RDNA architecture, 7nm process technology and advanced software features offer multitasking performance, energy efficiency, and stability to power 2D and 3D professional design applications.
BETA CAE Systems Releases Version 20.1.0 of ANSA/EPILYSIS/META Software Suite
January 9, 2020
The v20.1.0 release features more efficient process streamline and acceleration.
AMD Unveils Four New Desktop and Mobile GPUs
January 7, 2020
The new AMD Radeon RX 5600 series lineup includes the AMD Radeon RX 5600 XT graphics card,  available in custom designs from AMD board partners.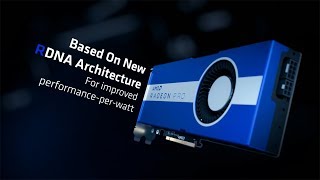 New GPU Enters the 7nm Realm 
December 11, 2019
The graphics processing unit can do more work per watt and do it faster than the previous generation technology.
Sponsored Content
Editor's Pick: Engineering GPU with World-First Specs 
December 11, 2019
AMD Radeon Pro W5700 is a professional PC workstation graphics card designed for 3D designers and engineers using 7nm technology.
Latest News
Sponsored Content
Engineering On the Go
New mobile workstations from MSI provide the computing power to handle complex models and simulations, any time and any place.
Editor's Picks: Sept. 9-15, 2021
One of the picks will be chosen as DE's Editor's Pick of the Week.
Mastercam 2022 Delivers Toolpaths With Comprehensive Turning Solutions
Mastercam 2022 gives various options to turn all parts exactly as needed.
A Conversation with DJ Smith, VR Expert
The Glimpse Group's cofounder DJ Smith discusses enterprise use cases, the consumer-grade hardware's advantage, visual fidelity required for design review,...
All posts