Altair SIMSOLID Walkthrough
June 1, 2019
For this overview, Tony Abbey says he was was able to explore design configurations very rapidly—and this prompted further exploration into alternative configurations such as an integral fitting.
Simulation Transition: Materials
June 1, 2019
It is fundamentally essential to understand how your simulation software incorporates the mechanical properties of materials.
Keep It Simple, Keep Them Coming
June 1, 2019
An easy formula for estimating cost is part of some simulation software providers' strategy.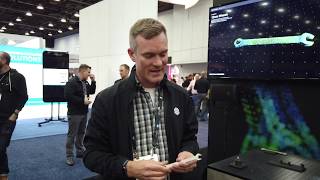 Markforged Debuts Blacksmith Artificial Intelligence (AI) Software for Metal 3D Printing
May 29, 2019
Using artificial intelligence to make automate additive metal manufacturing quality control
HP Launches New 3D Printing Solution, Manufacturing Alliances and Digital Manufacturing Network
May 9, 2019
HP's announcements center on getting 3D printed products to market faster, strategic connections with companies such as Siemens, Materialise and BASF, new TPU material and more.
Verisurf 2019 Software Introduced
May 3, 2019
The software offers enhanced CMM programming, productivity features and universal compatibility.
Sponsored Content
Editor's Pick: Faster Composites Simulation Improves Predicting Carbon Fiber Performance
May 1, 2019
MultiMechanics MultiMech 19.0 composite simulation software specializes in finite element analysis of carbon fiber and other composites.
ParaMatters Upgrades its Generative, Autonomous Design and Lightweighting Software
April 30, 2019
CogniCAD 2.1 autonomous topology optimizer for lightweighting offers enhanced variety of loading conditions, optimization of build orientation. It also features an intuitive, simple user interface that works autonomously and instantly.
Hexagon Releases Latest Update of EDGECAM
April 25, 2019
New release supports fast 5-axis machining tools; software features barrel cutter support and new gun drilling cycle.
Systems Engineering Software Update Advances Multidiscipline Simulation
April 24, 2019
Siemens PLM Software releases a full plate of new features in Simcenter Amesim 2019.1. 
Siemens Releases Latest Version of Parasolid with Convergent Modeling
April 23, 2019
The release provides new capabilities in model editing and blending, sheet modeling and imprinting, and facet modeling.
Simcenter Amesim Announces Major Simulation Upgrades for Automotive, Aerospace and Marine Industries
April 17, 2019
By extending Modelica support and integration with other Simcenter solutions, Simcenter Amesim helps users to set up a toolchain throughout the development cycle.
Siemens Releases KineoWorks Version 7.0
April 16, 2019
As one of its new features, KineoWorks version 7.0 comes with a new standalone application—Kwik—for accelerating your KineoWorks application development. 
CoreTechnologie Launches New SDK Version for Direct Interfaces to CAD Systems
April 16, 2019
CoreTechnologie now also offers STEP AP 242 Extended Interfaces for software manufacturers.
MultiMech 19.0 Delivers Expanded Simulation Capabilities
April 9, 2019
Release improves breadth and run times of multiscale composite simulations, company says.
Latest News
Bright Cluster Manager Is Now Qualified Software Stack for Intel Select Solutions for Simulation & Modeling
Bright Cluster Manager is a commercial cluster management software designed to automate the process of installing, provisioning, configuring, managing, and...
AMUG Gives Out DINO Awards
Award recognizes experience and service.
Nextflow Software Introduces Nextflow Studio
This fluid simulation software lets engineers easily manage their simulation projects and provides a graphical user interface (GUI) based on...
Ralf Hartmann of Airbus Defense & Space to Keynote ASSESS 2019 Congress
Hartmann's keynote presentation's title is "Multidisciplinary Integration Towards the Digital Twin."
All posts