Top Story
PTC Steers Portfolio Towards Next-Era Digital Transformation
May 17, 2023
SaaS version of Creo and sustainability partnerships headline announcements at PTC LiveWorx 2023.
PTC Steers Portfolio Towards Next-Era Digital Transformation
May 17, 2023
SaaS version of Creo and sustainability partnerships headline announcements at PTC LiveWorx 2023.
PTC Boosts Vuforia's Visual Inspection Capability With AI
May 15, 2023
Augmented reality solution can now support visual inspection on the shop floor.
PTC Launches Vuforia Instruct
May 28, 2021
PTC launches enterprise-wide AR-powered work instruction application as part of its Vuforia Division
PTC's ThingWorx and Vuforia Power Fujitsu Smart Factory Framework
January 28, 2021
Fujitsu expands its existing customer relationship with PTC to become a system integrator.
AR Takes Center Stage at PTC 2019 LiveWorx
June 12, 2019
PTC announced new tools and alliances to boost adoption of AR to transform the industrial enterprise.
5G Resources: PTC on 5G's Impact—Faster Apps, Better AR-VR
December 3, 2018
5G network expected to improve AR-VR experience, better industrial IoT apps, and better digital twin applications. ThingWorks developer PTC discusses 5G's impact. ABI Research publishes forecast on 5G network slicing's benefits.
PTC Partners to Advance Pace of Innovation
June 20, 2018
PTC's Jim Heppelmann made a series of announcements, led by partnerships with ANSYS and Microsoft, that are designed to advance PTC's transformation.
CAD UI in Metamorphosis
February 1, 2018
Desktop-centric CAD user interfaces are transforming to keep up with touch displays and AR-VR gear.
PTC Updates Vuforia AR Platform
October 24, 2017
Among other announcements, PTC details the upcoming release of the newest version of its Vuforia platform for augmented reality development.
PTC to Boost Enterprise Mixed Reality with Microsoft HoloLens
October 18, 2017
PTC  announced that it is working to create enterprise mixed reality (MR) experiences with Microsoft HoloLens.
Engineering the Wow Factor into Sales with Augmented Reality
May 1, 2017
Positioning virtual products in real spaces via augmented reality gives manufacturers an advantage.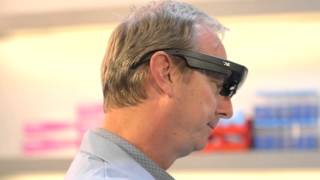 PTC Draws On Augmented Reality to Round Out its IoT Vision
February 1, 2016
Using an augmented reality platform to overlay digital data, companies can elevate interaction with a product to provide service operators with detailed instructions or facilitate design reviews for engineers.
PTC Gets Real With Augmented Reality
November 4, 2015
As an augmented reality technology, Vuforia will help PTC bridge the digital and physical worlds.
Latest News
AWE 2023: Mixed Reality Woos Metaverse
At AWE 2023, invisible laptops, kitchen design in mixed reality, the hardware makers' race to capture the metaverse, more
DE247 Reports Back From AWE 2023
DE Senior Editor Kenneth Wong provides a firsthand video glimpse of the latest and greatest products on display at AWE 2023...
What's New in Autodesk Upchain
Autodesk has changed its Upchain product release cycle from a quarterly update to a progressive rollout.
Corman Picks Aras Innovator to Drive Digital Transformation
Aras supports leading personal care company in transforming product lifecycle management in 56 countries.
All posts