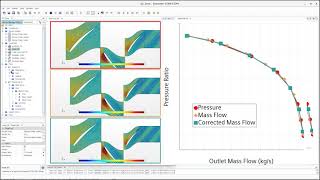 Simcenter STAR-CCM+ 2021.1 Out Now
March 1, 2021
Company to host virtual launch event of Simcenter STAR-CCM+ 2021.1 on March 9, live on LinkedIn.
SoftInWay Partners with Siemens
February 18, 2020
The new partnership with Siemens Digital Industries Software means an expansion of the software portfolio for SoftInWay's clients.
Rand Simulation Launches Turbomachinery Offering
June 20, 2019
The company has enhanced its collaborative consulting and overall business practice to include expertise focused on the turbomachinery industry.
Editor's Pick: Aero-Acoustics and Vibro-Acoustics Simulations Extended for Turbomachinery
November 14, 2018
New wizard helps predict tonal and broadband noise for turbomachinery.
Wizard Speeds Turbomachinery Acoustics Analyses
November 14, 2018
Integrated aero-acoustics and vibro-acoustics simulation suite updated.
ANSYS 18.1 Includes Features to Simulate More and Faster
May 22, 2017
Latest release aims to boost design productivity and optimization, according to the company.
Advanced Design Technology Releases TURBOdesign Suite 6.1
May 20, 2016
This version includes updates for gases applications.
Latest News
Lenovo Delivers Expanded Portfolio of New Mobile and Desktop Workstations
Lenovo extends its collaboration with AMD in this latest product launch.
Big Tech Expected to Trim Cloud Computing Spend in 2023
For 2023, folks on Wall Street anticipate a notable slowdown in spending by major technology firms on the warehouse-size data centers...
Partnership Drives Promotion of Additive Manufacturing Camp for Young Women
The "Girl Meets Additive Manufacturing" program, for San Diego high school students, will introduce participants to additive manufacturing.
Case Western Part of New National Engineering Collaboration
The collaborations are the result of more than $100 million in grants to fund the programs.
All posts