Aras Teams up with VCollab to Boost Management of Simulation Results 
February 12, 2019
Aras will use the VCollab technology in Simulation Process & Data Management (SPDM) processes across the lifecycle. 
Altair Expands Offering to Include Illumination Design & Analysis Software
February 11, 2019
Lambda Research Corporation joins Altair Partner Alliance.
VIRES VTD 2.2 Expands Autonomous Driving Simulation
February 8, 2019
Revamped visualization and advanced sensors, new car models, new open API, user experience enhancements can be discovered in latest release.
Soler & Palau selects CORTIME for Design Exploration in SolidWorks
January 15, 2019
Soler & Palau is immersed in the development of efficient ventilation products and systems into the market that reduce energy consumption while protecting the environment.
Tektronix' Initial State Launches new Data Streaming and Visualization Service
January 3, 2019
Cloud-based data service offers real-time streaming from devices and applications. 
CORTIME Introduces SolidWorks Embedded Multi-Study Optimization
December 18, 2018
CORTIME, according to the company, helps engineers explore optimal designs by automating their design evaluation process and exploring design options based on performance goals and constraints.
EDEM Updates its Flagship Software
December 14, 2018
Features and tools are being introduced, including a Python library for easier post-processing of large amounts of data, the ability to simulate deformable geometries as well as a new breakage model.
Sponsored Content
Bring Your Product to Market Faster with Real-Time Rendering
December 10, 2018
Instantaneous real-time, ray-traced rendering can dramatically cut down your product development cycle. In this webinar, panelists explore the benefits of using dedicated rendering hardware to go beyond what's possible with a workstation, to reduce physical prototyping costs.
IMSI Design Launches TurboCAD v11
November 26, 2018
TurboCAD v11 features 2D geometric and dimensional constraints, new 3D modeling tools, woodworking features, visualization enhancements, and expanded interoperability.
Digital Design Technology: a New Dawn
November 12, 2018
Today, design engineers have access to affordable, photorealistic rendering, 3D animations and simulation, as well as immersive design technologies like augmented and virtual reality.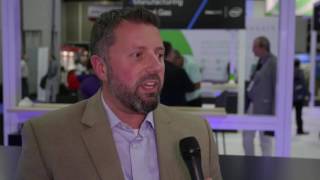 Sponsored Content
See Biomolecules Clearly
November 9, 2018
HPC helps researchers visualize molecular processes in high resolution.
Forecasting the Next Epidemic with High Performance Computing
November 9, 2018
High performance computing is critical to detecting and studying infectious disease transmission.
Ultra Large 3D CAD Visualization Available
November 2, 2018
Kisters provides visualization applications for the Windows desktop and any HTML5 browser.
Sponsored Content
Editor's Pick: NVIDIA Quadro RTX Graphics About to Change Your Workstation
October 24, 2018
PNY expects to fulfill first partner orders for new NVIDIA accelerators in early November.
Siemens Set to Acquire Lightworks, Aims to Bolster Visualization and VR support
September 28, 2018
Latest News
Chaos Group previews Project Lavina, SimScale releases radiation simulator, Onshape recognized by World Economic Forum
In this episode of DE News Roundup, Chaos Group previews Project Lavina for real time ray tracing, SimScale releases radiation...
AMD Radeon Pro Software for Enterprise 19.Q3 Is Optimized for Professional Applications
The latest driver also continues to prove the value of updating professional drivers, with Day Zero certifications to help ensure...
Moldex3D Partners with Wittmann Battenfeld on LSR Injection Molding and Smart Manufacturing
The memorandum of understanding is aimed at bringing together both parties' extensive knowledge and technical expertise to advance the role...
Siemens Debuts More Tire Modeling Capabilities in Real-Time Environments
The Simcenter Tyre team releases MF-Tyre/MF-Swift 2019.1 with more possibilities to test with MSC ADAMS.
All posts