Top Story
Superworkstations!
June 1, 2019
Design engineering workstations have become extremely powerful—where does it make sense to invest your IT budget?
SparkFun Electronics Releases First Open-Source, U.S.-Manufactured Embedded Systems Module
June 25, 2019
SparkFun makes technology that runs the TensorFlow machine-learning platform easy to implement and deploy at an ultra-low power.
Airbus and ANSYS Partner to Enable Autonomous Flight
June 20, 2019
New agreement drives development of AI-enabled flight control software; goal is to support future combat air system by 2030.
Sponsored Content
AI Workstations for Data Science
June 17, 2019
AI Workstation maximizes productivity, reduces time to insight, and lowers the cost of your data science projects in one robust, readily deploy able solution.
Sponsored Content
Artifical Intelligence for Media & Entertainment
June 17, 2019
Within the Media & Entertainment industry, AI is rewriting all the rules about how to create content.
Altair HyperWorks 2019 Now Available
June 10, 2019
Latest version of flagship simulation platform unifies design, engineering and manufacturing communities for faster development cycles.
Superworkstations!
June 1, 2019
Design engineering workstations have become extremely powerful—where does it make sense to invest your IT budget?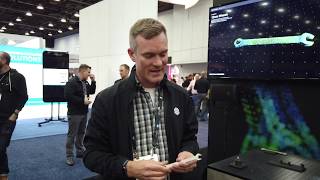 Markforged Debuts Blacksmith Artificial Intelligence (AI) Software for Metal 3D Printing
May 29, 2019
Using artificial intelligence to make automate additive metal manufacturing quality control
New Mobile Workstations Launch with NVIDIA Quadro RTX
May 28, 2019
New systems feature AI, ray tracing and VR.
Markforged Launches Blacksmith Software that Uses AI to Automatically Adjust 3D Printers
May 23, 2019
Techniplas: Combining Additive Manufacturing (AM), Generative Design, and AI to Explore Lightweighting
May 9, 2019
In partnership with generative design software maker Paramatters, Techniplas offers free browser-based manufacturing portal to attract lightweighting projects
Self-Driving Cars are Leveling Up in Autonomy
May 1, 2019
A look at the self-driving carmakers' road ahead.
Edge Computing Opportunities and Frustrations
May 1, 2019
Balancing quality and quantity of edge data presents a difficult challenge.
Sensors Smarten Up the Edge
May 1, 2019
Companies that want to bring AI to the edge face hardware and data processing challenges.
Sensory Brings Natural Language Understanding to the Edge with TrulyNatural
April 29, 2019
TrulyNatural offers a fast voice interface without privacy concerns.
GE Leverages Surrogate Modeling to Slash Design Times
April 23, 2019
AI-driven approach could cut design times by half, evaluate millions of design variations in minutes
Latest News
HxGN Live 2019: Forging a Path in the Data Forest
At its annual conference HxGN Live, Hexagon executives propose finding intelligence in manufacturing data as the way to gain competitive...
Unrivaled Compute Power in a 15-in. Mobile Workstation
Among the new systems, the ThinkPad P53 is a powerful 15-in. mobile workstation, offering the power of the NVIDIA Quadro...
Editor's Pick: Tensor Cores and Real-time Ray Tracing Go Mobile
Lenovo introduces high-end versatility in a 15-in. mobile workstation. 
ExOne Initiatives Target Industrial 3D Printing
ExOne debuts industrial 3D sand printer; partners with Siemens; announces marketing initiative with new website.
All posts