Top Story
End-to-End Innovation
December 16, 2020
IMAGINiT provides best-in-class technology to support today's modern workflows and engineering requirements
Sponsored Content
How to Convince Management to Adopt 3D Printing
February 10, 2021
Regardless of your role within the business, you need to take a pragmatic approach when investing in 3D printing technology – one that is based on clear time- and cost-saving opportunities.
How to Get Started with Generative Design
January 22, 2021
Generative design allows you to simultaneously generate multiple CAD-ready options based on real-world manufacturing constraints and product performance requirements. Try generative design today and see how manufacturers are developing lighter, stronger, and more innovative products.
Sponsored Content
End-to-End Innovation
December 16, 2020
IMAGINiT provides best-in-class technology to support today's modern workflows and engineering requirements
Graebert, Act II: Enterprise CAD Collaboration
December 11, 2020
Graebert steps out of the background with its Trinity of CAD platform, and a greater emphasis on wide-scale collaboration
Sponsored Content
Podcast: The Future of Engineering is in the Cloud
December 8, 2020
Industry veteran Jon Hirschtick of PTC discusses the future of remote collaboration and engineering in the cloud.
Product Design: What is Next?
December 1, 2020
Onshape founder John McEleney Takes a look at the future of design software.
Bricsys Makes the Case for Mechanical CAD in DWG
November 3, 2020
BricsCAD V21 marries BIM, mechanical design with flexible licensing.
Elysium Takes a Platform Approach to 3D Data Interoperability
October 26, 2020
3DxSUITE is a single, modular platform that leverages all of Elysium's interoperability products to support the model-based enterprise.
SOLIDWORKS 2021: GPU-Accelerated for Better Performance
October 8, 2020
SOLIDWORKS 2021 returns with more improvements in performance, modeling, and simulation.
Autodesk, Open Design Alliance Bury the Hatchet (Half-Way)
October 1, 2020
IFC support brings Autodesk and ODA together, up to a point. The news about the Open Design Alliance was announced after it's recent developers conference.
Updated CAD Comparison, Conversion Solutions
September 29, 2020
Kubotek3D K-Display and K-Compare products include updates to STEP and CAD file readers.
FREE WEBINAR: Can AI Algorithms Design Better Than Humans?
September 25, 2020
The Cloud's Impact on AI and Machine Learning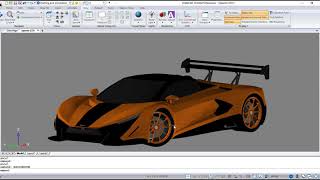 IntelliCAD 10.0 Available
July 31, 2020
Software now supports OpenGL ES graphics device.
QuadriSpace Releases Document3D Suite 2021
July 27, 2020
New Document3D Suite 2021 streamlines technical publishing with new import, publish and authoring tools.
CAD Exchanger SDK 3.8.1. Supports X3D Import
July 22, 2020
New release also features enhanced Parasolid procedural geometry support.