Top Story
2021 Coronavirus Updates: Latest Tech Show Events
January 7, 2021
Periodically updated list of engineering, manufacturing, and technology shows cancelled or postponed due to coronavirus concerns.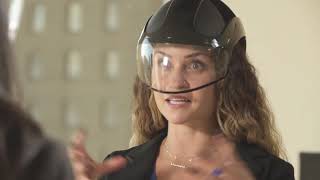 Cool Tech for the New Normal at CES 2021 Virtual
January 18, 2021
AMD delivers keynote touting new mobile processor, virtual CES highlight cool techs for the new normal
2021 Coronavirus Updates: Latest Tech Show Events
January 7, 2021
Periodically updated list of engineering, manufacturing, and technology shows cancelled or postponed due to coronavirus concerns.
Global 3D Printing Materials Market to be Worth $18.4 Billion by 2030
January 5, 2021
Materials to be most significant part of the 3D printing industry.
3D Printing in a Post-COVID-19 World
December 31, 2020
Mass customization and flexibility ensure AM's role in the post-COVID world.
Remote Work is Here to Stay
December 17, 2020
Companies eye virtual workstation capabilities to support remote teams with real-time performance for graphics-intensive engineering applications.
A Year Like No Other
December 15, 2020
Though the uncertainty that arrived with COVID-19 early in 2020 does not appear to be dissipating; even so, the engineering technology sector has continued to innovate and generally thrive.
AMUG Conference Heads South for the Spring
December 9, 2020
Additive Manufacturing Users Group (AMG) conference will move to Orlando in May.
A Glimpse of the Generative Design Market
November 1, 2020
Analysts speculate market impacts of COVID-19, and find ways to evaluate software efficiency.
GPUs Are Workstation Essentials
October 30, 2020
Graphics, AI and parallel processing tasks have made GPUs a key enabler of engineering productivity.
CFD on the Menu for Cafeteria Re-opening Plan
October 26, 2020
Working with Dassault, GEA leverages simulation and digital twin technology to understand aerosol spread as it works to safely re-open its employee cafeteria.
MxD Awarded $15 Million to Boost U.S. Manufacturing's COVID Response
October 22, 2020
CARES Act Funding will support supply chain resiliency, medical device deployment and pharmaceutical industry production.
AM's Role in Future-Proofing the Supply Chain
October 20, 2020
A virtual panel wades in on how AM can help manufacturers add business resiliency to their supply chains while delivering competitive advantage.
Virtual Desktop Infrastructure Market Projected to Reach $30 Billion by 2026
October 16, 2020
As businesses worldwide attempt to become more agile, global, virtual and secure, virtual desktop infrastructure has been gaining traction across several industry segments in recent years.
Automotive Acoustic Engineering Services Market Worth $4.80 Billion by 2027
October 6, 2020
Government regulations regarding noise pollution and customer preference for enhanced cabin comfort and luxury features drive growth of global automotive acoustic engineering services market.
Penguin Computing Adds Contributions to AMD COVID-19 HPC Fund
October 6, 2020
Delivers HPC capabilities to researchers via the cloud and at 21 institutions across the U.S. and Europe.
Latest News
Three Ways Generative Design is Transforming Business
Generative design is an exploration tool that uses artificial intelligence and machine learning to simultaneously generate multiple solutions based on...
Generative Design Helps Create New Wheels that are 35% Lighter
By using generative design technology, Briggs Automotive Company (BAC) was able to shed an additional 4.8 kilograms (10.5 lbs) for the latest...
Hyundai is Driving Mobility Innovation with Generative Design
Hyundai Motor Group is pushing the boundaries of vehicle development and reimagining how vehicles might traverse the world. In a...
How to Get Started with Generative Design
Generative design allows you to simultaneously generate multiple CAD-ready options based on real-world manufacturing constraints and product performance requirements. Try...
All posts