Top Story
Dassault Systèmes Promotes Cloud-Centric 3DEXPERIENCE Works, Promises to Keep Desktop SOLIDWORKS
April 1, 2021
The company also announced two new SOLIDWORKS offerings, SOLIDWORKS for Makers and SOLIDWORKS for Students.
Dassault Systèmes Promotes Cloud-Centric 3DEXPERIENCE Works, Promises to Keep Desktop SOLIDWORKS
April 1, 2021
The company also announced two new SOLIDWORKS offerings, SOLIDWORKS for Makers and SOLIDWORKS for Students.
TÜV SÜD Provides Virtual Training in Additive Manufacturing 
March 30, 2021
The subjects being addressed are business models, process chains, materials, current industry standards, and production and quality management.
Dassault Systèmes Simulates Airflow in Paris Hospital
March 25, 2021
Airflow simulation is being used to optimize existing hospital safety measures including temporary changes to heating, ventilation and air conditioning systems.
Manufacturing USA Rapid Response to COVID-19 Report Now Available
March 25, 2021
Nine institutes in the Manufacturing USA network worked with 91+ partners across 24 states and Puerto Rico to develop the report.
2021 Event Updates: Latest Tech Show Announcements
March 15, 2021
Periodically updated list of engineering, manufacturing, and technology shows cancelled or postponed due to coronavirus concerns.
CFD Keeps Boats Afloat in the America's Cup
March 1, 2021
Despite COVID disruptions, sailing teams discover new ways to simulate the unexpected.
Sustaining the Future of 3D Printing
February 26, 2021
Experts share their sustainability approaches for manufacturing the way to a more planet-friendly future.
RIZE Debuts "Safe at Home" Manufacturing Initiative
February 25, 2021
By deploying RIZE 2XC desktop composite 3D printers in homes of team members, Festo builds a distributed, self-sufficient supply chain that's GREENGUARD certified safe and productive.
Simulating the Way to COVID Safety
February 23, 2021
MSC Cradle CFD simulation explores the impact of ventilation and social distancing on in-door dining scenarios to promote safe practices aimed at reducing the spread.
What Will the New Normal Look Like?
February 1, 2021
Here at Digital Engineering, we have spent much of the past year evaluating how the pandemic affected the working life of our engineering audience, and the way they use technology.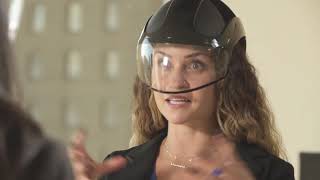 Cool Tech for the New Normal at CES 2021 Virtual
January 18, 2021
AMD delivers keynote touting new mobile processor, virtual CES highlight cool techs for the new normal
Global 3D Printing Materials Market to be Worth $18.4 Billion by 2030
January 5, 2021
Materials to be most significant part of the 3D printing industry.
3D Printing in a Post-COVID-19 World
December 31, 2020
Mass customization and flexibility ensure AM's role in the post-COVID world.
Remote Work is Here to Stay
December 17, 2020
Companies eye virtual workstation capabilities to support remote teams with real-time performance for graphics-intensive engineering applications.
A Look Ahead
December 15, 2020
DE readers provide an update on their use of engineering technologies.