Top Story
DE Video News Roundup: Update on CoVent 19 Ventilator Design Challenge, 3D Print and Scan in Medieval Church Restoration, More
May 27, 2020
In Video News Roundup for May 29, 2020, the Covent-19 ventilator design challenge enters phase II, 3D printing and scanning firm Prototek helps restore Florence Baptistery cathedral door, Autodesk Fusion 360 adds 3D printing tools, 3D Heals virtual conference set for June
Stratasys Announces Strategic Resizing to Accelerate Growth
June 4, 2020
Measure reflects shift to leaner operating model.
Industry Focus: Design for Medical Devices
May 28, 2020
In this Special Digital Issue, we take a look at how simulation software, 3D printing, and other technologies can be used to improve the design of medical devices.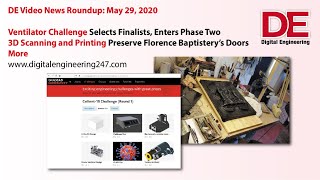 DE Video News Roundup: Update on CoVent 19 Ventilator Design Challenge, 3D Print and Scan in Medieval Church Restoration, More
May 27, 2020
In Video News Roundup for May 29, 2020, the Covent-19 ventilator design challenge enters phase II, 3D printing and scanning firm Prototek helps restore Florence Baptistery cathedral door, Autodesk Fusion 360 adds 3D printing tools, 3D Heals virtual conference set for June
Sponsored Content
Data Science Finds New Role in the Fight Against COVID-19
May 26, 2020
GPU-accelerated data visualization and analysis could lead to a better understanding of the virus.
Coronavirus Updates: Tech Shows Cancelled or Postponed Due to Coronavirus Concerns
May 21, 2020
Periodically updated list of engineering, manufacturing, and technology shows cancelled or postponed due to coronavirus concerns
A New Engineering Paradigm
May 19, 2020
The abrupt shift to working from home presents an opportunity to rethink old design and simulation processes.
PTC Honors Customers and Partners Tackling COVID-19 Challenges
May 19, 2020
"COVID-19 Heroes" blog series spotlights organizations fighting the global pandemic through collaboration and ingenuity.
CCE Launches Free Cloud CAD Viewer to Assist Remote Working in COVID Crisis
May 15, 2020
EnSuite-Cloud allows users to view all major CAD formats in any browser.
CAASE20: Simulation in the Age of COVID-19
May 12, 2020
Peter Langsten, Gartner's Marc Halpern to keynote CAASE20 Virtual Conference.
Harvey Mudd College Professor on Teaching Robotics, Circuit Design in Lockdown
May 11, 2020
Harvey Mudd College Professor continues teaching circuit design and robotics lab courses under lockdown using take-home Arduino kits
COVID-19 Has Brought Cloud Services to Forefront, GlobalData says
May 11, 2020
The company's latest report, COVID-19 Impact on Cloud Services, reveals that the investment could now pay an unexpected dividend by transforming the way some businesses operate.
UT Dallas Lab 3D-Prints Ventilator Part
May 11, 2020
Lab also working on PPE and testing swabs.
America Makes Partners with Wohlers Associates to Launch Virtual Game Day Series
May 8, 2020
This is a new series of virtual panels and networking events that will cover the most important and trending topics facing the AM community.
COVID-19 Impact on AR/VR a Mixed Bag: Interview with Lenovo
May 7, 2020
Lenovo Commercial ARVR Lead Discusses Coronarivus Impact on Business, training and remote assistance emerges as solid deployment reasons
3D Printing Shows its Strengths
May 7, 2020
Desktop Metal's Jonah Myerberg on how 3D printing helps companies respond quickly during a crisis.
Latest News
Saratech acquires Apex DMS Inc., a Siemens PLM software business, from the Sconce Group
Apex DMS is a Siemens PLM software business, from the Sconce Group.
Siemens Updates Simcenter System Simulation Solutions
These system simulation solutions help enable engineers to rapidly build models before the first physical prototype becomes available.
DE Podcast: Analyst Jon Peddie Explains COVID-19's Effect on the GPU Market
JPR releases graphics market report for 2020 Q1, shipments down, growth blunted by Coronavirus and shutdowns
Mastercam 2021 is Now Released
CAD/CAM developments streamline the manufacturing process from job setup to job completion.
All posts