Top Story
No One-Size-Fits-All Optimal System
April 15, 2020
Software use and workload should determine IT manager workstation selection.
Lenovo Releases Mirage VR S3
June 11, 2020
New 4K VR Display Designed with Pico Interactive
COVID-19 Impact on AR/VR a Mixed Bag: Interview with Lenovo
May 7, 2020
Lenovo Commercial ARVR Lead Discusses Coronarivus Impact on Business, training and remote assistance emerges as solid deployment reasons
No One-Size-Fits-All Optimal System
April 15, 2020
Software use and workload should determine IT manager workstation selection.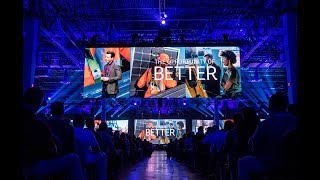 Autodesk discusses partnership with ANSYS at AU 2019, offers free generative design tools, more
December 2, 2019
Autodesk and ANSYS affirm partnership, Autodesk offers free generative design tools, React Robotics design in Fusion with Lenovo workstations, more
Is AR/VR Ready to Go Beyond Visualization?
December 1, 2019
Storytelling is the dominant use of mixed reality devices at present, but may change in the future.
Mobile Workstations Continue to Rise
December 1, 2019
Demand is driven by the desire to have as much computing power as possible at hand 24/7.
Budget Workstations for Engineers
September 1, 2019
Tasks, not price, define today's entry-level engineering workstation offerings.
The Rise of Data Science Workstations
August 1, 2019
NVIDIA's new hardware is making it easier for organizations to process data right on the desktop, as engineers are being drafted into data science roles.
Are You Ready for Extended Reality (XR)?
August 1, 2019
Identifying the right use case is key to getting the most out of enterprise augmented reality.
Review: Lenovo ThinkPad P72 Displays An Excellent Update
August 1, 2019
Lenovo's 17-inch mobile workstation delivers great engineering performance at a more affordable price.
Sponsored Content
Making the Case for the Right Workstation
July 30, 2019
Whether it's an engineer designing bridge structures on a major infrastructure project or a developer coding the next big video game release, the workstation is the epicenter of the workday and a barometer for employee productivity.
Sponsored Content
Choose the Right Mobile Workstation for the Job
July 25, 2019
How mobile workstations are tailored to the workloads of the professionals who need them most.
Sponsored Content
Editor's Pick: Tensor Cores and Real-time Ray Tracing Go Mobile
June 26, 2019
Lenovo introduces high-end versatility in a 15-in. mobile workstation. 
Sponsored Content
Eccotype Turns Typing Into Professional-grade Animation
June 24, 2019
Creativity shouldn't just be in the hands of the few. So say the innovators of Eccotype, a new online platform that gives novice visual effects artists the ability to create movie-quality CGI without expensive software and years of training.
Sponsored Content
Design That Matters Helping Treat Easily Curable Diseases
June 20, 2019
Serving underprivileged communities from Haiti to Mali to Vietnam, nonprofit Design that Matters (DtM) is committed to helping treat easily curable diseases like jaundice, hypothermia and pneumonia using simply yet ingeniously designed medical devices.
Latest News
Pointwise Accelerates Surface Meshing
New release provides 5X faster surface meshing for CFD.
DeskProto Releases CAM Software for Mac
Projects will be interchangeable between Mac and Windows.
CoVent-19 Ventilator Challenge Winner Announced
Three finalists selected from more than 200 entries
Tools that Build Sustainable Products
Design solutions are emerging that can help integrate sustainability.
All posts