Top Story
Digital Twins Coming Into Focus
January 4, 2021
Augmented and virtual reality can help users better understand complex digital twin data.
Digital Twins Coming Into Focus
January 4, 2021
Augmented and virtual reality can help users better understand complex digital twin data.
CAD Exchanger SDK 3.8.1. Supports X3D Import
July 22, 2020
New release also features enhanced Parasolid procedural geometry support.
AWE Online: Unity Unveils MARS, HP Showcases Reverb G2, Scent-integrated VR, more
May 29, 2020
The AR, VR, and MR conference AWE attracts vendors with new products, panelists discuss how the COVID-19 shutdowns accelerate AR, VR, MR technology adoption
Is AR/VR Ready to Go Beyond Visualization?
December 1, 2019
Storytelling is the dominant use of mixed reality devices at present, but may change in the future.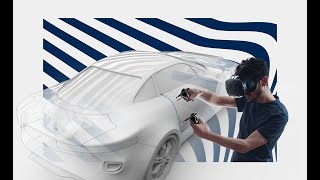 Varjo Releases VR2, Flyingshapes Launches CAD for VR, More
October 17, 2019
xRS Week Conference by Greenlight Insights kicks off, Varjo releases VR-2 Regular and Pro hardware, flyingshapes launches CAD modeling app for VR users
The Art of Balance in Mixed Reality
June 1, 2019
Resolution, weight and price are part of the equation for virtual reality and mixed reality success.
Prepare for Augmented, Virtualized Product Development
August 13, 2018
Laying the groundwork for professional augmented reality and virtual reality apps begins with generating realistic, interactive content.
From Solid Geometry to Responsive AR-VR
August 1, 2018
The handshake between CAD and visualization engines proves critical to AR-VR development.
Latest News
Sponsored Content
Engineering On the Go
New mobile workstations from MSI provide the computing power to handle complex models and simulations, any time and any place.
Editor's Picks: Sept. 9-15, 2021
One of the picks will be chosen as DE's Editor's Pick of the Week.
Mastercam 2022 Delivers Toolpaths With Comprehensive Turning Solutions
Mastercam 2022 gives various options to turn all parts exactly as needed.
A Conversation with DJ Smith, VR Expert
The Glimpse Group's cofounder DJ Smith discusses enterprise use cases, the consumer-grade hardware's advantage, visual fidelity required for design review,...
All posts