Top Story
Digital Twins Coming Into Focus
January 4, 2021
Augmented and virtual reality can help users better understand complex digital twin data.
Epic Games to Use HOOPS Exchange for CAD Import
December 6, 2022
Epic Games switches to HOOPS Exchange for handling CAD model import
Digital Twins Coming Into Focus
January 4, 2021
Augmented and virtual reality can help users better understand complex digital twin data.
CAD Exchanger SDK 3.8.1. Supports X3D Import
July 22, 2020
New release also features enhanced Parasolid procedural geometry support.
AWE Online: Unity Unveils MARS, HP Showcases Reverb G2, Scent-integrated VR, more
May 29, 2020
The AR, VR, and MR conference AWE attracts vendors with new products, panelists discuss how the COVID-19 shutdowns accelerate AR, VR, MR technology adoption
Is AR/VR Ready to Go Beyond Visualization?
December 1, 2019
Storytelling is the dominant use of mixed reality devices at present, but may change in the future.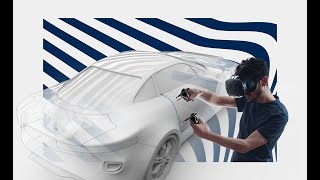 Varjo Releases VR2, Flyingshapes Launches CAD for VR, More
October 17, 2019
xRS Week Conference by Greenlight Insights kicks off, Varjo releases VR-2 Regular and Pro hardware, flyingshapes launches CAD modeling app for VR users
The Art of Balance in Mixed Reality
June 1, 2019
Resolution, weight and price are part of the equation for virtual reality and mixed reality success.
Prepare for Augmented, Virtualized Product Development
August 13, 2018
Laying the groundwork for professional augmented reality and virtual reality apps begins with generating realistic, interactive content.
From Solid Geometry to Responsive AR-VR
August 1, 2018
The handshake between CAD and visualization engines proves critical to AR-VR development.
Latest News
SME Announces 2023 Award of Merit Honorees
SME's Award of Merit has, since 1958, recognized accomplishments from its members.
Xometry Instant Quoting Engine Adds Features
The quoting engine adds Support for more than three dozen materials and finishes, including galvanized steel, stainless Steel and sheet-metal...
Volume Graphics 2023.1 Software Supports Battery Inspection
Software also uses enhanced artificial intelligence/machine learning in new, easier interface.
Love the Problem
While new solutions are emerging all the time, many of the problems engineers face can be dishearteningly consistent.
All posts