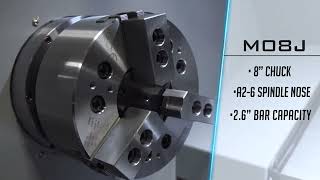 Sponsored Content
Tsugami M08J for Your CNC Machining Operations
November 7, 2018
The M08J CNC Lathe allows you to do many machining operations from turning, drilling, boring, and thread cutting. Ideal for a wide range of applications, the M08J is built for high accuracy, high productivity machining. The machine is...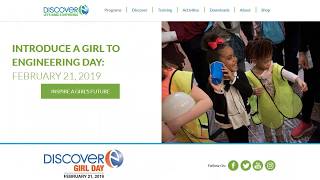 DE News Roundup: November 2, 2018
November 2, 2018
MIT launches online experiment to add human perspective on AI training for self-driving cars, Hexagon buys Bricsys, known for DWG-compatible BricsCAD, ANSYS launches new app store, and more.
Podcast: Digital Engineering News Roundup for Oct. 19, 2018
October 18, 2018
Listen to the top news items for the week of Oct 18, 2018. Altair acquires SIMSOLID, Greenlight Insights hosts Virtual Strategy Strategy Conference, new book contemplates the dreaded AI revolt, and more
Podcast: Digital Engineering News Roundup for Oct. 12, 2018
October 12, 2018
Listen to a brief roundup of this week's top digital engineering news featuring Siemens closing its acquisition of Mendix and its plans to acquire Iray renderer Lightworks; Luxion's release of KeyShot 8, Onshape's preview of an AR CAD-editing app at Leap...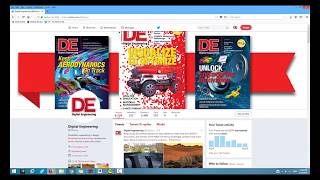 Watch This: Engineering News from 3Diligent, Autodesk, NASA and Fictiv
August 10, 2018
3Diligent takes a stand against 3D printed guns, Autodesk and NASA envision 3D-printed habitats for Mars, and a hardware business report from Fictiv.
Edge and Cloud Solutions for Engineering and Race Excellence
August 7, 2018
Discover how HPC cloud cluster with HPE Moonshot offers an edge in race car engineering and analytics. Learn how advanced analytics are employed at the edge (race pit) for real-time advantage and input for next-gen race cars.
GM Drives Vehicles of the Future with Generative Design
August 7, 2018
GM and Autodesk engineers apply generative design technology to reconceive a small vehicle component -- the seat bracket where seat belts are fastened. The resulting part is 40% lighter and 20% stronger than the original part.
Digital Engineering interviews E-Xstream engineering at CAASE 18
August 3, 2018
DE's Tony Lockwood interviews Ron Rogers from e-Xstream engineering at CAASE 18, the Conference on Advancing Analysis & Simulation in Engineering.
2018 Altair Enlighten Award Honors Automotive Lightweighting Innovators
July 30, 2018
GM, BMW, Asahi Kasei and Mazda, Sika Automotive, United States Steel and American Axle & Manufacturing take top honors at the 2018 CAR Management Briefing Seminars.
What is Frontloading CFD?
July 12, 2018
Gain insights on a hot trend in engineering. FloEFD for Creo enables users to boost productivity and design quality by frontloading computational fluid dynamics. This video demonstrates in part FloEFD's solution, Frontloading CFD.
Pushing 3D Technology to the Next Level
July 12, 2018
Airframers and OEMs share how additive manufacturing is transforming aerospace from enhancements in airframe and engine products to advancements in material science and the effect on supply chains.
AutoCAD 2019 Review
May 1, 2018
Autodesk's latest version of its flagship AutoCAD makes multiple products available for a single price - bundled toolsets, web app and mobile app are included with subscription.
Siemens FEMAP with NX NASTRAN Overview
March 1, 2018
Part two of this overview of FEMAP with NX NASTRAN from Siemens focuses on meshing and FE analysis.
Develop AR Apps for Glass and IIoT Devices
December 27, 2017
Solutions provide the ability to create and deploy platform-independent industrial AR applications.
Insights from the DE-HP survey
July 27, 2012
Latest News
3D Systems Shares CFO Transition
Michael Turner is stepping down as the company's chief financial officer (CFO), effective October 15, 2023.
Nano Dimension Reaffirms Its Vote "Against" Stratasys' Merger With Desktop Metal
Nano Dimension says merger deal would be highly dilutive, requiring Stratasys to pay premium and give financial support to Desktop...
Custom Fit
Availability of customized medical devices and orthotics improves with advanced engineering design and fabrication.
Dassault Debuts Emma Twin for Healthcare Innovation
An avatar was designed to raise awareness about how virtual twins are advancing healthcare.
CloudNC Offers CAM Assist as Autodesk's Fusion 360 Plug-in
CAM Assist uses advanced computer science techniques to generate professional machining strategies for 3-axis parts in seconds. 
Explore Open Access Ordering of Parts
New product ordering system offering extends from workflow from additive manufacturing part identification to the delivery of manufactured parts.
All posts