Editor's Pick: Advanced Particle Simulation Software Extends Modeling Features
February 6, 2019
Rocky DEM 4.2 debuts enhanced particle collision analyses as well as spring and damper motion capabilities.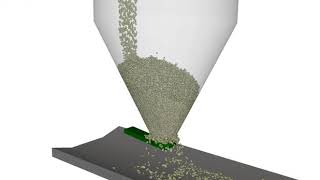 ESSS Releases Rocky DEM Version 4.2 Software
December 20, 2018
Discrete element method simulation software enhances particle collision analysis, spring and damper motion, fiber modeling improvements, and ANSYS Workbench integrated fluid–particle simulation.
Editor's Picks: Dec. 13-19, 2018
December 20, 2018
One of the picks will be chosen as DE's Editor's Pick of the Week.
ESSS Releases Update of Rocky DEM Software
July 3, 2018
V4.1 of Rocky DEM Software enables company to offer high-fidelity particle modeling.
Editor's Picks: June 21-27, 2018
June 28, 2018
One of the picks will be chosen as DE's Editor's Pick of the Week.
Latest News
RAPID+TCT 2019 Drives Additive Manufacturing to Next Level in Motor City
Thousands of attendees delve into 3D printing, the future of manufacturing, digital twins, data management and so much more.
Jabil Inks Additive Manufacturing Agreement to Supply Parts to Renault F1 Team
On-demand delivery of racecar parts for Renault F1 Team driven by expansion at certified Jabil 3D printing facilities worldwide.
ExOne Announces Kennametal as Inaugural Beta Customer for New X1 25PRO Production Machine
ExOne also announced a new material partnership program, as well as more collaboration with Sandvik Additive Manufacturing.
Behind the Scenes at Materialise in the Midwest
Factory tour at Michigan-based 3D printing production facility provides a peek at the company's innovations in the medical sector.
All posts