Ansys Buys Rocky Software
January 6, 2023
Ansys will add Rocky DEM to its portfolio to help engineers solve challenging design problems involving discrete solids with complex multiphysics interactions, Ansys says.
Editor's Picks: April 7-13, 2022
April 18, 2022
One of the picks will be chosen as DE's Editor's Pick of the Week.
Rocky 2022R1 Enables Industrial Scalability of Processes
April 8, 2022
The new particle dynamics modeling software, Rocky 2022R1, enables particle dynamics simulations with larger numbers of particles, company reports. 
Sponsored Content
New Frontiers in GPU Acceleration
March 5, 2021
From molecular science and material flow to sound propagation, GPU cores take on new workloads.
Editor's Pick: Advanced Particle Simulation Software Extends Modeling Features
February 6, 2019
Rocky DEM 4.2 debuts enhanced particle collision analyses as well as spring and damper motion capabilities.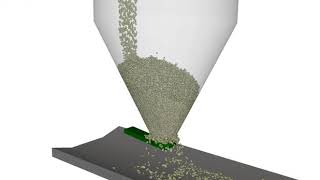 ESSS Releases Rocky DEM Version 4.2 Software
December 20, 2018
Discrete element method simulation software enhances particle collision analysis, spring and damper motion, fiber modeling improvements, and ANSYS Workbench integrated fluid–particle simulation.
Editor's Picks: Dec. 13-19, 2018
December 20, 2018
One of the picks will be chosen as DE's Editor's Pick of the Week.
ESSS Releases Update of Rocky DEM Software
July 3, 2018
V4.1 of Rocky DEM Software enables company to offer high-fidelity particle modeling.
Editor's Picks: June 21-27, 2018
June 28, 2018
One of the picks will be chosen as DE's Editor's Pick of the Week.
Latest News
Asking the Right Questions About HPC for Simulation
The answers to those questions may shed light on what services are most needed.
Matterport to Provide Digital Twin Platform for John Deere Operations
John Deere will use Matterport's digital twin platform to streamline facilities and operations management to boost responsivity and productivity,...
Datanomix and Hexagon Partner for Factory Analytics
Hexagon's Manufacturing Intelligence division selects Datanomix for its No Operator Input approach to production monitoring and out-of-the-box data.
Remcom Debuts Tuning in Simulation Software
Company introduces tuning with slider bars for matching network design in XFdtd EM simulation software.
All posts