Ansys Buys Rocky Software
January 6, 2023
Ansys will add Rocky DEM to its portfolio to help engineers solve challenging design problems involving discrete solids with complex multiphysics interactions, Ansys says.
Editor's Picks: April 7-13, 2022
April 18, 2022
One of the picks will be chosen as DE's Editor's Pick of the Week.
Rocky 2022R1 Enables Industrial Scalability of Processes
April 8, 2022
The new particle dynamics modeling software, Rocky 2022R1, enables particle dynamics simulations with larger numbers of particles, company reports. 
Sponsored Content
New Frontiers in GPU Acceleration
March 5, 2021
From molecular science and material flow to sound propagation, GPU cores take on new workloads.
Editor's Pick: Advanced Particle Simulation Software Extends Modeling Features
February 6, 2019
Rocky DEM 4.2 debuts enhanced particle collision analyses as well as spring and damper motion capabilities.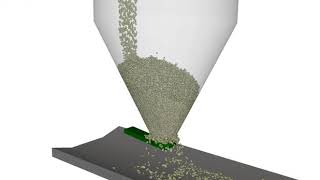 ESSS Releases Rocky DEM Version 4.2 Software
December 20, 2018
Discrete element method simulation software enhances particle collision analysis, spring and damper motion, fiber modeling improvements, and ANSYS Workbench integrated fluid–particle simulation.
Editor's Picks: Dec. 13-19, 2018
December 20, 2018
One of the picks will be chosen as DE's Editor's Pick of the Week.
ESSS Releases Update of Rocky DEM Software
July 3, 2018
V4.1 of Rocky DEM Software enables company to offer high-fidelity particle modeling.
Editor's Picks: June 21-27, 2018
June 28, 2018
One of the picks will be chosen as DE's Editor's Pick of the Week.
Latest News
Keeping Pace With Needs of Workstation Users
Post-pandemic, engineers and designers want a balance between power and form factor for the newest workstations.
RAPID + TCT to Return to West Coast in 2024
AM industry reportedly growing at a rate of 21% through 2027, according to SME.
FREE WEBINAR DEC. 14: Building Shared Context for Effective Digital Twins
In this Rescale webinar, learn how HPC and artificial intelligence can optimize industrial digital twins.
Industry Leaders Shift Strategies to Harvest AI Spring
AI-powered simulation and natural language input poised to become the norm.
Stratasys Partners with Siemens Healthineers
The joint development leverages Stratasys' PolyJet and RadioMatrix technology with Siemens Healthineers' advanced algorithm for scanned patient images.
6K Additive Receives Recycled Content Certification
6K Additive earned the third-party certification from sustainability verification leader SCS Global Services.
All posts