Top Story
Asking the Right Questions About HPC for Simulation
January 31, 2023
The answers to those questions may shed light on what services are most needed.
GE Plans to Invest $450 Million-Plus in U.S. Manufacturing in 2023
March 9, 2023
Investments include new equipment, facility upgrades, other improvements, along with the hire of more than 1,700 employees for open external positions with GE Aerospace, GE Vernova's businesses. will help ensure strong future for U.S. workforce.
Asking the Right Questions About HPC for Simulation
January 31, 2023
The answers to those questions may shed light on what services are most needed.
Companies Develop Sand Binder Jetting 3D Printer for Offshore Wind Turbines
September 21, 2021
3D printing provides flexibility to produce large turbine components near offshore wind projects, companies say.
Adapting AI to the Plant Floor
June 15, 2020
Smart technologies enable engineers to predict failures, detect suboptimal operations and identify quality problems.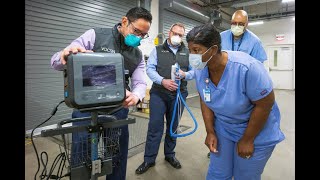 GM, GE, Ford Begin Delivering Ventilators; MakerBot Joins Face Shield Making
April 23, 2020
Carmakers begin manufacturing ventilators, MakerBot joins PPE drive, AM education continues under lockdown
Making Digital Thread Work for You
March 1, 2020
Digital thread initiatives may require a mix of on-premise and cloud-based compute resources.
AI Rewrites the Possibilities of Digital Twin
January 31, 2020
Developers of the virtual design tool see AI as providing the catalyst for a major shift in product development.
What Speed Needs
June 1, 2019
One way to change the culture is to connect different stakeholders in a collaborative environment.
NCDMM to Host Its Annual SUMMIT Event
May 3, 2019
Conference to promote greater collaboration and information sharing among thought leaders from manufacturing, government, industry and academia.
Sensors Smarten Up the Edge
May 1, 2019
Companies that want to bring AI to the edge face hardware and data processing challenges.
GE Leverages Surrogate Modeling to Slash Design Times
April 23, 2019
AI-driven approach could cut design times by half, evaluate millions of design variations in minutes
Altair Offers GE's Flow Simulator Software
August 17, 2018
Flow Simulator from GE is an integrated flow, heat transfer and combustion design software that enables mixed fidelity simulations to optimize machine and systems design.
ABI Research Ranks Smart Manufacturing Platforms
August 13, 2018
The "Smart Manufacturing Platform Ranking" competitive assessment ranked 11 major vendors in the sector: ABB Ability, Bosch IoT Suite, Emerson Plantweb, Fujitsu Colmina, GE Predix, Hitachi Lumada, PTC ThingWorx, SAP Leonardo, Schneider Electric EcoStruxure, Siemens Mindsphere and Telit deviceWISE, based on...
Pushing 3D Technology to the Next Level
July 12, 2018
Airframers and OEMs share how additive manufacturing is transforming aerospace from enhancements in airframe and engine products to advancements in material science and the effect on supply chains.
GE, Altair Sign Agreement to Distribute Flow Simulator Software
May 18, 2018
GE's engine system modeling technology to be distributed and enhanced by Altair as part of exclusive relationship.
Latest News
Anycubic Kobra 2 3D Printer On Market
The upgraded tool head, electronics, and other mechanical changes are all features to help to boost speed and print quality,...
CIMdata Creates eBook on Vehicle Electrification
The eBook describes vehicle electrification engineering challenges and the capabilities of Siemens Digital Industries Software's integrated approach, CIMdata says.
TPM Establishes Additive Manufacturing Lab in South Carolina
This lab will serve as a regional demonstration center for additive and 3D printing technology, company says.
America Makes Awards Funding to Colorado School of Mines 
Project team to explore cross-platform consistency in laser powder bed fusion technologies, according to America Makes.
All posts