Editor's Pick: Connecting Part Scanning to Part Printing to Improve Production Quality
May 29, 2019
Markforged Blacksmith uses artificial intelligence to teach 3D metal printers how to improve results.
Editor's Picks: May 17-23, 2019
May 28, 2019
One of the picks will be chosen as DE's Editor's Pick of the Week.
Markforged Launches Blacksmith Software that Uses AI to Automatically Adjust 3D Printers
May 23, 2019
Metal Short-Run 3D Printing on Rapid Growth Trajectory
April 1, 2019
This growth includes expansion into markets where printing on-demand parts and components is attractive, such as healthcare, aerospace and automotive.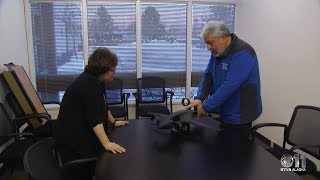 Autonomous Cargo Drone Does Heavy Lifting
March 27, 2019
Sabrewing has designed two hybrid-electric aircraft that can autonomously deliver hundreds of pounds of cargo to remote locations.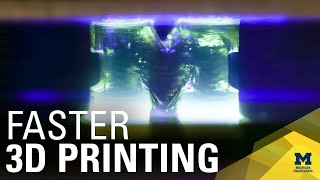 University of Michigan Researchers Tout High-Speed 3D Printing Approach
February 6, 2019
The process employs dual light sources in place of an oxygen membrane to print at 100 times the print speed of conventional offerings.
Markforged Launches H13 Tool Steel for High-strength, High-temp Tooling Applications
December 14, 2018
The expansion into H13 will enable customers to print parts in high-strength, high-temperature applications such as metal forming tools, dies and punches, and hardened inserts for fixtures, the company reports.
Editor's Picks: Dec. 6-12, 2018
December 13, 2018
One of the picks will be chosen as DE's Editor's Pick of the Week.
Markforged and Desktop Metal Reach Friendly Resolution on Trade Secret Lawsuit
October 4, 2018
Metal Additive Manufacturing Market Heats Up
October 1, 2018
From new cold spray deposition methods to innovations in extrusion processes, advances in metal additive manufacturing address long-standing limitations related to cost, safety and time to print.
Markforged Metal X 3D Printer – Making its Mark
August 8, 2018
Markforged is working on roll-out of a range of metals and alloys; H13 tool steel, known for its strength and resistance to thermal shock, will soon be available. Other materials already in beta stage include Inconel, two aluminum alloys, titanium...
Crash Test Dummies Get Older, and Better
July 1, 2018
Adaptive and Markforged help Humanetics create a 3D-printed "elderly" model with use of crash test dummies.
Sponsored Content
Ramp Up Manufacturing Production with 3D Printing
May 31, 2018
3D printers can make tooling and fixtures that can save time and money when ramping up production lines.
Sponsored Content
3D Print Software Manages Reinforced Layers
May 21, 2018
Test drive Markforged's 3D printing software and learn what fiber-reinforcement composite parts are all about.
An April Additive Manufacturing Odyssey: RAPID + TCT 2018
May 4, 2018
A recap of the RAPID + TCT 2018 conference.
Latest News
AI-powered App for Enhanced Machine Optimization
The igusGO app is an AI-powered app that allows machine operators to find opportunities to implement igus products in their...
Keeping Pace With Needs of Workstation Users
Post-pandemic, engineers and designers want a balance between power and form factor for the newest workstations.
RAPID + TCT to Return to West Coast in 2024
AM industry reportedly growing at a rate of 21% through 2027, according to SME.
FREE WEBINAR DEC. 14: Building Shared Context for Effective Digital Twins
In this Rescale webinar, learn how HPC and artificial intelligence can optimize industrial digital twins.
Industry Leaders Shift Strategies to Harvest AI Spring
AI-powered simulation and natural language input poised to become the norm.
Stratasys Partners with Siemens Healthineers
The joint development leverages Stratasys' PolyJet and RadioMatrix technology with Siemens Healthineers' advanced algorithm for scanned patient images.
All posts