NAFEMS Puts Out Call for Papers for 2021 Congress
September 3, 2020
The Congress is an independent, international forum for engineering analysis that will be a hybrid event in 2021.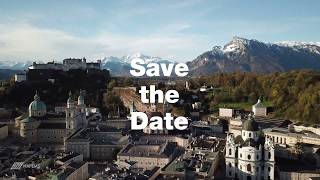 NAFEMS World Congress 2021 Issues Call for Papers
July 13, 2020
Salzburg event will provide in-person and online options for attendees.
CAASE20: Diving into Diversity in the STEM Workplace
June 26, 2020
Harvey Mudd College president offers practical insights into tackling diversity from an academic perspective.
CAASE20 Keynote: CAE Spread Across the Enterprise Boosts Competitiveness
June 19, 2020
Monica Schnitger, president & principal analyst, Schnitger Corp., delved into "Leveraging Simulation Across the Modern Enterprise" at the virtual CAASE20 during her keynote presentation. 
CAASE20 Keynote: Simulation Governance Can Carry You Through the Post-COVID World
June 17, 2020
On Day Two of CAASE20 Virtual Conference, analysts propose use of simulation governance to cope with engineering in the socially distanced era
CAASE20 Presentation: Justifying Spending More on Simulation During a Crisis
June 16, 2020
Presenter argues investment in R&D during the crisis is the key to beat competition
CAASE20 Conference Launches With Twin Keynotes, IndyCar Simulation
June 16, 2020
The virtual event offers more than 240 conference sessions over three days.
CAASE20 Virtual Conference Preview Available for Download
June 11, 2020
Learn more about the upcoming CAASE20 virtual event, June 16-18, in this special digital issue.
Ford and the Future of Simulation
June 2, 2020
At the CAASE20 virtual event, the automaker will discuss its use of leading-edge simulation and additive manufacturing technologies. 
More NAFEMS E-learning Opportunities Open Up
June 1, 2020
Sign up for FEA and CFD online learning from wherever you may be working.
NAFEMS Continues to Churn out Free Webinar Content
May 26, 2020
Upcoming sessions to tackle topology optimization, simulation-informed decision making and more.
CAASE20: Working in the Post-COVID World
May 22, 2020
As offices shutter, new doors open for remote collaboration, digital twins and 3D printing, say CAASE20 keynote speakers.
CAASE20: Simulation in the Age of COVID-19
May 12, 2020
Peter Langsten, Gartner's Marc Halpern to keynote CAASE20 Virtual Conference.
CAASE20 Virtual Conference to Feature More Than 200 Presentations
May 5, 2020
Three-day online conference will be free to NAFEMS members.
Altair Accelerates Simulation-Driven Design in Latest Release of Altair Inspire
April 21, 2020
Release includes integration of Altair SimSolid for fast, accurate structural analysis of complex assemblies.
Latest News
Materialise Sees Sustainability as the Future of 3D Printing
Company focuses on reduction in waste, improvement in material re-use.
Sponsored Content
HPC Helps JSP Perform Ansys Simulations up to 35% More Efficiently
HPC boosts simulation efficiency.
Safran Transmission Systems Picks MSC Software to Manage Simulation Data
Web-based simulation and test data management system addresses all phases from project initiation through product launch and beyond.
GrabCAD Print Integrates With KeyShot Rendering Software
KeyShot by Luxion is real-time 3D rendering software that allows for intuitive designs and renders.
All posts