Top Story
Cloud-Based Medical Simulation
February 5, 2021
InSilico Trials is participating in a new EU effort to digitize medical device, pharma development.
SDC Verifier Partners With Revolution in Simulation
July 27, 2023
SDC Verifier provides simulation and standard verification software and engineering consultancy services.
Cadence Expands System VIP Portfolio
February 27, 2023
Goal is to to accelerate automotive, hyperscale data center and mobile system-on-a-chip verification.
Siemens' Symphony Pro Platform Expands Mixed Signal IC Verification
July 18, 2022
Siemens' advanced mixed-signal simulation platform designed to boost productivity, company says.
Cloud-Based Medical Simulation
February 5, 2021
InSilico Trials is participating in a new EU effort to digitize medical device, pharma development.
Siemens Closes the Loop on AV Development
November 19, 2020
SCAPTOR adds a data collection component to the Simcenter portfolio, accelerating the development of autonomous vehicles.
The Modern Face of SPDM
November 19, 2020
As simulation-driven design becomes a core pillar of digital product development, a refreshed simulation product data management emerges.
FREE WEBINAR: Highly Virtual Prototyping for Electronic Performance in Connected Devices
October 19, 2020
Discover how to speed up the design process for electromagnetic products.
A Convergence of Data in the Connected Car
September 15, 2020
There's a need to adopt and adapt new development methodologies, tools and design concepts.
Siemens Expands Capital Electrical Software
June 17, 2020
Integrated capabilities can be used to design and assess E/E systems and enables support for integrated end-to-end model-based design, manufacturing and service domains.
CIMdata Releases 2019 Simulation & Analysis Market Report
July 2, 2019
The simulation & analysis market grew by 13.1% to nearly $6.5 billion in 2018.
Siemens Accelerates Autonomous Vehicle Development With Closed-Loop Simulation
May 23, 2019
PAVE360 extends digital twin simulation beyond processors to include the entire complex ecosystem.
Update to Additive Metal Manufacturing Inspection Gains Key DARPA Recognition
May 22, 2019
The system pairs PrintRite3D SENSORPAK multi-sensors and hardware with PrintRite3D INSPECT, PrintRite3D CONTOUR and PrintRite3D ANALYTICS software modules for comprehensive management of AM processes.
Editor's Pick: Real-time Process Monitoring for Metal Additive Manufacturing
May 22, 2019
Sigma Labs PrintRite3D Version 5 offers real-time analysis of metal 3D printing quality.
Engineering Automation: Going on Autopilot
May 1, 2019
From flying taxis to cargo drones, efforts are underway to automate in the air.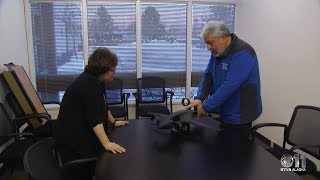 Autonomous Cargo Drone Does Heavy Lifting
March 27, 2019
Sabrewing has designed two hybrid-electric aircraft that can autonomously deliver hundreds of pounds of cargo to remote locations.
Latest News
Hexagon Launches Mould and Die Suite
Aim is to empower teams to simplify the work of complex manufacturing.
Notilus Marine Plugins Expanding
Design plugins made for the maritime industry.
FEA In the Age of Cloud
Specialized infrastructure providers fill a need in HPC-powered simulation.
Intel Innovation Day: CEO Outlines AI Roadmap, Xeon Split, and Partnerships
Intel outlines vision for Siliconomy, AI-powered PCs, and strategies to separate Xeon CPUs into P and E Processors
Introducing SprutCAM X 17 and SprutCAM X Robot 17 CAD/CAM/OLP Solutions
SprutCAM Tech has released new versions of its flagship CAD/CAM/OLP software products.
3D Systems Shares CFO Transition
Michael Turner is stepping down as the company's chief financial officer (CFO), effective October 15, 2023.
All posts