Top Story
Cloud-Based Medical Simulation
February 5, 2021
InSilico Trials is participating in a new EU effort to digitize medical device, pharma development.
Cloud-Based Medical Simulation
February 5, 2021
InSilico Trials is participating in a new EU effort to digitize medical device, pharma development.
Siemens Closes the Loop on AV Development
November 19, 2020
SCAPTOR adds a data collection component to the Simcenter portfolio, accelerating the development of autonomous vehicles.
The Modern Face of SPDM
November 19, 2020
As simulation-driven design becomes a core pillar of digital product development, a refreshed simulation product data management emerges.
FREE WEBINAR: Highly Virtual Prototyping for Electronic Performance in Connected Devices
October 19, 2020
Discover how to speed up the design process for electromagnetic products.
A Convergence of Data in the Connected Car
September 15, 2020
There's a need to adopt and adapt new development methodologies, tools and design concepts.
Siemens Expands Capital Electrical Software
June 17, 2020
Integrated capabilities can be used to design and assess E/E systems and enables support for integrated end-to-end model-based design, manufacturing and service domains.
CIMdata Releases 2019 Simulation & Analysis Market Report
July 2, 2019
The simulation & analysis market grew by 13.1% to nearly $6.5 billion in 2018.
Siemens Accelerates Autonomous Vehicle Development With Closed-Loop Simulation
May 23, 2019
PAVE360 extends digital twin simulation beyond processors to include the entire complex ecosystem.
Update to Additive Metal Manufacturing Inspection Gains Key DARPA Recognition
May 22, 2019
The system pairs PrintRite3D SENSORPAK multi-sensors and hardware with PrintRite3D INSPECT, PrintRite3D CONTOUR and PrintRite3D ANALYTICS software modules for comprehensive management of AM processes.
Editor's Pick: Real-time Process Monitoring for Metal Additive Manufacturing
May 22, 2019
Sigma Labs PrintRite3D Version 5 offers real-time analysis of metal 3D printing quality.
Engineering Automation: Going on Autopilot
May 1, 2019
From flying taxis to cargo drones, efforts are underway to automate in the air.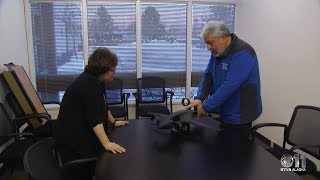 Autonomous Cargo Drone Does Heavy Lifting
March 27, 2019
Sabrewing has designed two hybrid-electric aircraft that can autonomously deliver hundreds of pounds of cargo to remote locations.
Technology Focus: Designing for Optimization & Simulation
December 18, 2018
Simulation is pervasive, with people from different departments and backgrounds discovering new ways to put it to use, in all of its varied forms.
Latest News
Editor's Pick: Upgrade to Mixed Reality 3D CAD Viewing Suite
Theorem Solutions Theorem-XR Suite update offers support for HoloLens 2 and the Microsoft Azure Remote Rendering (ARR) engine.
Massivit 5000 Large-Scale 3D Printer Boosts Production Speeds 30X
At AMUG 2021, Massivit has launched a new industrial-grade large-format printer.
CoreTechnologie Unveils Universal 3D Printing Software
Latest version of 4D_Additive additive manufacturing software has new features to meet demands of small-batch production of 3D printed...
Nexa3D Expands Partnership with BASF Forward AM
Powered by BASF Forward AM, Nexa3D's three new photopolymers support a variety of applications with fast turnaround times.
All posts