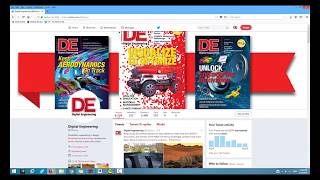 Watch This: Engineering News from 3Diligent, Autodesk, NASA and Fictiv
August 10, 2018
3Diligent takes a stand against 3D printed guns, Autodesk and NASA envision 3D-printed habitats for Mars, and a hardware business report from Fictiv.
Edge and Cloud Solutions for Engineering and Race Excellence
August 7, 2018
Discover how HPC cloud cluster with HPE Moonshot offers an edge in race car engineering and analytics. Learn how advanced analytics are employed at the edge (race pit) for real-time advantage and input for next-gen race cars.
GM Drives Vehicles of the Future with Generative Design
August 7, 2018
GM and Autodesk engineers apply generative design technology to reconceive a small vehicle component -- the seat bracket where seat belts are fastened. The resulting part is 40% lighter and 20% stronger than the original part.
Digital Engineering interviews E-Xstream engineering at CAASE 18
August 3, 2018
DE's Tony Lockwood interviews Ron Rogers from e-Xstream engineering at CAASE 18, the Conference on Advancing Analysis & Simulation in Engineering.
What is Frontloading CFD?
July 12, 2018
Gain insights on a hot trend in engineering. FloEFD for Creo enables users to boost productivity and design quality by frontloading computational fluid dynamics. This video demonstrates in part FloEFD's solution, Frontloading CFD.
Pushing 3D Technology to the Next Level
July 12, 2018
Airframers and OEMs share how additive manufacturing is transforming aerospace from enhancements in airframe and engine products to advancements in material science and the effect on supply chains.
Insights from the DE-HP survey
July 27, 2012
Latest News
Quick Snapshot of NAFEMS Americas Regional Conference
Event covered range of topics in the simulation space, including electrification, autonomous vehicles and diversity in simulation organizations.
Nuts and Bolts of NAFEMS' Acquisition of ASSESS
Two leaders of respective simulation organizations sit down to discuss details of NAFEMS acquisition.
TriMech and Solid Solutions Unite
The merger creates a strategic transatlantic technology and solutions partnership for the advanced design, engineering and manufacturing sectors.
3D Systems & EMS-GRILTECH Enter Strategic Partnership
Leveraged combined expertise to introduce DuraForm PAx Natural— a material available for all Selective Laser Sintering platforms.
All posts