Top Story
Engineering Technologies Still Require the Human Element
Where there are no humans interacting, it is of little use, engineers caution.
CADSoftTools Releases ABViewer v15.1
February 3, 2023
CADSoftTools announces ABViewer 15.1 with new features and enhancements.
Toggle3D Unveils Big Tech Advancements
January 31, 2023
Toggle3D enables the creation, design, configuration and deployment of 3D models at scale, using CAD files.
XR Brings Greater Clarity to Automotive Design
January 19, 2023
While the technology is still evolving, it also offers a lot of possibilities to automakers.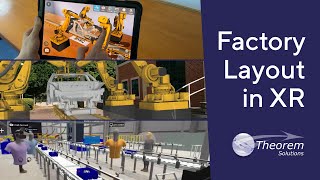 Bridge the Gap Between Digital and Physical by Using XR for Planning and Layout
December 13, 2022
Using Extended Reality (XR) is helping to bridge the gap between the digital and physical when creating and planning factory and plant layouts.
Nextech AR's Toggle-3D Disrupting CAD-3D Model Market
November 10, 2022
Toggle3D is introducing physically-based rendering material creation flows that reduces the material creation time from days to minutes, company says.
Dassault Systèmes Acquires Diota
September 29, 2022
With acquisition, Dassault aims to bring augmented reality and field control technology to its manufacturing and operations customers.
Nextech AR Launches AI-Powered SaaS Software Platform
September 23, 2022
Toggle3D is a standalone web application enabling product designers and 3D artists to create, customize and publish 3D models and experiences, according to Nextech AR.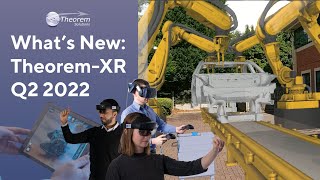 Augmented, Mixed or Virtual Reality
August 24, 2022
The adoption of extended reality (XR) technology in engineering and manufacturing is accelerating at a rapid pace. But what is XR and what are its benefits? Theorem Solutions explains.
TeamViewer and Siemens Offer Augmented and Mixed Reality solutions
July 28, 2022
This collaboration allows Siemens' global customers to improve their product development process based on immersive experiences, the company reports.
AR, MR or VR: Which Technology is Right for your Engineering Use Case?
July 26, 2022
Augmented, Mixed or Virtual Reality? This is a key question. You will need to understand the features and benefits of each technology type before looking to build and implement your XR strategy.
Cisco Elevates Design Collaboration with Webex Hologram Technology
April 4, 2022
Technology provides an easy way to bring non-engineers into design conversations.
Survey Shows How Manufacturers Plan to Leverage Metaverse
April 1, 2022
Majority of companies interested in learning how 'digital twins' can benefit their operations, survey finds.
Autodesk Buys The Wild XR Platform
March 28, 2022
The Wild enables architecture, engineering and construction (AEC) professionals to present, collaborate and review projects together in immersive and interactive experiences.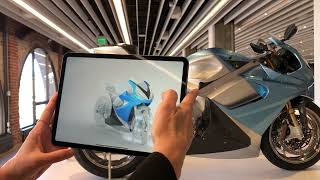 San Francisco-based Autodesk Gallery reopens
March 9, 2022
The newly reopenned San Francisco-based Autodesk Gallery exhibits highlight AR/VR apps for real-time CFD, generative design projects.
CareAR Acquires MagicLens
January 25, 2022
MagicLens, a 3D visualization and augmented reality platform, is bought by CareAR, a Xerox company.
Latest News
Oqton and Valk Welding Partner for Automated Robotic Welding
Oqton is part of Valk Welding's Automatic Robot Programming (ARP) solution for high-mix, low-volume production.
CADSoftTools Releases ABViewer v15.1
CADSoftTools announces ABViewer 15.1 with new features and enhancements.
C3Nano Unveils Conductive Curing Printable Ink Solution
C3Nano'sSuperGrid low-temperature process enables markets and applications for consumer electronics, flexible printed circuits, and interconnects, company says.
Siemens Advances Integrated Circuit Verification
Company debuts new, data-driven Questa Verification IQ software.
All posts