Top Story
Engineering Technologies Still Require the Human Element
Where there are no humans interacting, it is of little use, engineers caution.
AR Is Engine Driving Custom Configurator Builds of Legendary Car
July 25, 2023
The Little Car Company, manufacturers of limited-edition hand built electric scaled cars, has launched its new configurator for an old Ferrari.
Utilizing Extended Reality & IIoT in Manufacturing
July 12, 2023
The manufacturing industry is poised to leap forward with the advent of extended reality technologies and the integration of the IIoT. Both offer the potential to increase efficiency, improve employee training, and better track materials.
Automotive Manufacturing Gone Virtual
June 16, 2023
AR, VR, digital twins and 3D prototyping all play roles in the future of the automotive market.
PTC Boosts Vuforia's Visual Inspection Capability With AI
May 15, 2023
Augmented reality solution can now support visual inspection on the shop floor.
Interoperability Issues Fade as Cloud-Hosted Collaboration Shines
March 24, 2023
Formats and conversions become irrelevant in the new workflow.
Designing Robotics
March 6, 2023
A closer look at bringing complex robotic technology into our modern world.
Editor's Pick: Nextech AR Toggle3D Update 
February 15, 2023
This online 3D configurator is easy to use by people with no prior CAD experience, according to the company.
Nextech AR Achieves Generative AI Breakthrough
February 13, 2023
The company can now recreate high-quality 4K textures at scale from 250 px x 250px of digital swatches in seconds versus hours of manual labor, company says.
CADSoftTools Releases ABViewer v15.1
February 3, 2023
CADSoftTools announces ABViewer 15.1 with new features and enhancements.
Nextech Unveils Big Tech Advancements
January 31, 2023
Toggle3D enables the creation, design, configuration and deployment of 3D models at scale, using CAD files.
XR Brings Greater Clarity to Automotive Design
January 19, 2023
While the technology is still evolving, it also offers a lot of possibilities to automakers.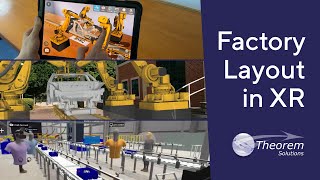 Bridge the Gap Between Digital and Physical by Using XR for Planning and Layout
December 13, 2022
Using Extended Reality (XR) is helping to bridge the gap between the digital and physical when creating and planning factory and plant layouts.
Nextech AR's Toggle-3D Disrupting CAD-3D Model Market
November 10, 2022
Toggle3D is introducing physically-based rendering material creation flows that reduces the material creation time from days to minutes, company says.
Dassault Systèmes Acquires Diota
September 29, 2022
With acquisition, Dassault aims to bring augmented reality and field control technology to its manufacturing and operations customers.
Nextech AR Launches AI-Powered SaaS Software Platform
September 23, 2022
Toggle3D is a standalone web application enabling product designers and 3D artists to create, customize and publish 3D models and experiences, according to Nextech AR.
Latest News
Carbon Shares Platform Improvements
Company introduces new EPU 46 resin with color options.
COMSOL Announces Program for COMSOL Day: Aerospace & Defense
The event will explore multiphysics simulation applications and modeling topics supporting innovation and design in the aerospace and defense industry.
Keysight Highlights EDA 2024 Integrated Software Tools
This integrated EDA software is designed to increase productivity for engineers developing high-speed products in multiple applications, the company reports.
3D Systems Partners with Klarity
Klarity Prints, powered by 3D Systems, is a service-based line of 3D-printed radiotherapy accessories.
Altair Takes Home Awards from Fortune, Newsweek
Altair has been named to two lists that recognize companies that put employees first, Altair reports.
US DoD Deploys SPEE3D Printers to Ukraine
SPEE3D supplies 3D printers and training for Ukrainian soldiers and engineers to manufacture and repair military equipment in the...
All posts