Sponsored Content
Artifical Intelligence for Media & Entertainment
June 17, 2019
Within the Media & Entertainment industry, AI is rewriting all the rules about how to create content.
Superworkstations!
June 1, 2019
Design engineering workstations have become extremely powerful—where does it make sense to invest your IT budget?
Edge Computing Opportunities and Frustrations
May 1, 2019
Balancing quality and quantity of edge data presents a difficult challenge.
Sensory Brings Natural Language Understanding to the Edge with TrulyNatural
April 29, 2019
TrulyNatural offers a fast voice interface without privacy concerns.
Editor's Pick: New Machine Learning and Data Intelligence Support for Engineering Simulation  
March 13, 2019
Autonomous optimization helps simplify complex engineering processes.
Partner Content
Artificial Intelligence, Machine Learning and Deep Learning for Design
March 8, 2019
Break down the buzzwords to understand and successfully apply AI.
Making Autonomous Vehicles Smarter
March 1, 2019
Combining real-world info and simulated conditions to build a data set.
Machines Learn Differently
March 1, 2019
This commentary gets practical about one set of AI technologies that's just about ready for broader adoption: machine learning (ML).
Deep Learning and Design Engineering
March 1, 2019
Designers incorporate AI and deep learning into new products and in their own design processes.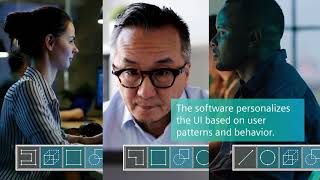 NX Gets an AI-Driven UX Makeover
February 20, 2019
The new NX Adaptive UI harnesses AI and machine learning to dynamically create user interfaces based on user behavior.
Siemens Updates NX Software with Artificial Intelligence and Machine Learning
February 19, 2019
Latest release of NX software enhanced with new capabilities that leverage machine learning and artificial intelligence technology to create user interfaces based on expected tasks to increase user adoption.
Sponsored Content
Editor's Pick: Machine Learning Boosts Modeling Methods
January 16, 2019
Automating your simulation workflows can help speed optimal design discovery.
Altair Announces Agreement to Acquire Datawatch
November 12, 2018
There is opportunity to cross-sell Datawatch products into Altair's primarily manufacturing customer base, which will be facilitated by applying Altair's licensing models to Datawatch solutions.
HPC, M.D. with the Help of AI
November 9, 2018
Artificial intelligence can potentially improve medical diagnoses and treatment, but will require better data and training.
Virtual Reality Strategy Conference 2018: New Ways to Interact with Pixels
October 29, 2018
Analyst firm Greenlight Insights hosts Virtual Reality Strategy Conference in San Francisco
Latest News
Editor's Picks: June 10-16, 2021
One of the picks will be chosen as DE's Editor's Pick of the Week.
Space Tech Innovator Agile Space Industries Acquires Tronix3D
Acquisition enables Agile to accelerate speed and quality across the aerospace supply chain, and continue to develop IP around metal ...
ENGYS Releases Helix v. 3.3.2 Open-Source CFD for Enterprise
The new release also includes updates for all of HELYX's add-on solver modules including Adjoint, Coupled, Marine and Hydro.
Agile Engineering Design System v2021.0 on the Market
Design and manufacture higher performance turbomachinery in less time.
All posts