Top Story
To 3D Print, or Not to 3D Print?
January 1, 2019
Consider the application, volume requirements and operational efficiencies.
Stratasys Snags Top Spot in ABI Research's Additive Manufacturing Platform Competitive Assessment
March 23, 2019
Also, Desktop Metal edges out incumbents, earning highest rank in innovation.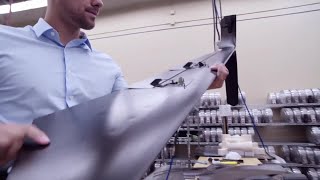 Aurora Flight Sciences' Aircraft Takes Flight with 3D Printing
March 6, 2019
Aurora teamed with Stratasys to develop a notably complex 3D printed jet-powered UAV.
Editor's Picks: February 7-13, 2019
February 15, 2019
One of the picks will be chosen as DE's Editor's Pick of the Week.
Stratasys Software Aims to Remove Complexity From Design-to-3D Print Process
February 12, 2019
Advanced FDM Software designed to eliminate CAD-to-STL roadblock, streamlining workflow, production times and material usage.
To 3D Print, or Not to 3D Print?
January 1, 2019
Consider the application, volume requirements and operational efficiencies.
Angel Trains, ESG Rail and Stratasys Join Forces in UK 3D Printing Manufacturing Solution for Rail Industry
December 10, 2018
The components approved for service include an arm rest, grab handle and seat back table--all of which will now be trialed on in-service passenger trains in 2019.
Stratasys and Materialise Partner with 3D Printing Medical Models
November 28, 2018
Stratasys PolyJet technology and Materialise FDA-cleared software now jointly offer a versatile 3D printing system for hospitals and physicians to build anatomical models at the point-of-care.
Stratasys Announces Four New Products
November 26, 2018
Among other product innovations, now it's possible to create production parts durable enough for aerospace, withstanding temperatures of up to 302 degrees F (150 degrees C), while delivering a lighter, cheaper, faster alternative to aluminum and steel.
Advanced Materials Challenge Durability Testing
October 1, 2018
The emergence of composites and new material options lead engineers to rely on new testing methods and simulation.
GKN Cuts Tooling Production Times with 3D Printer
September 25, 2018
According to GKN, the lead time typically required to produce a metal or plastic replacement tool is several weeks. With a 3D printer in the facility, the company can more quickly produce tools that are better suited to its operational...
LEGO Brand Group, Stanley Black & Decker Invest in Evolve
September 17, 2018
Consortium of strategic investment partners will propel the company's' STEP manufacturing technology toward commercialization.
Stratasys Deepens Collaboration with Team Penske; Demos New 3D Printers
September 10, 2018
Racing team Penske taps 3D printing, reveals streamlined prototype and final part production at IMTS 2018 via partnership with Stratasys.
Partner Content
Rapid Prototyping in The Automotive Industry
September 4, 2018
Henry Ford may not have invented the automobile, but his pioneering spirit did transform the way cars were made. His assembly line process drastically reduced costs with standardized parts and greater efficiency which led to lower cost, higher quality and...
Partner Content
How Global Players Differentiate Their Products With Impactful Packaging
September 4, 2018
Every year, about 3,000 new consumer goods are launched globally, one 30-minute shopping trip exposes a consumer to more than 20,000 product choices.
Editor's Picks: August 16-22, 2018
August 24, 2018
One of the picks will be chosen as DE's Editor's Pick of the Week.
Latest News
NVIDIA GTC 2019: Data Science Workstation, Purchase of an Interconnect Vendor, Safety Force Field in Autonomous Driving, and More
There are sufficient demos and talks of rayt racing, but the biggest announcements have...
Meeting Design and Regulatory Challenges of Autonomous Air Taxis
Frankfurt Airport manager Fraport is working with Volcopter to potentially use electric, vertical take-off...
Altium Launches "Altium Academic Programs"
Programs offer free and low-cost software and support to students and educators, empowering the...
AVL and MSC Software to Partner on Autonomous Vehicle Projects
AVL is developing a scenario-based open verification and validation toolchain to generate operational scenarios,...
All posts